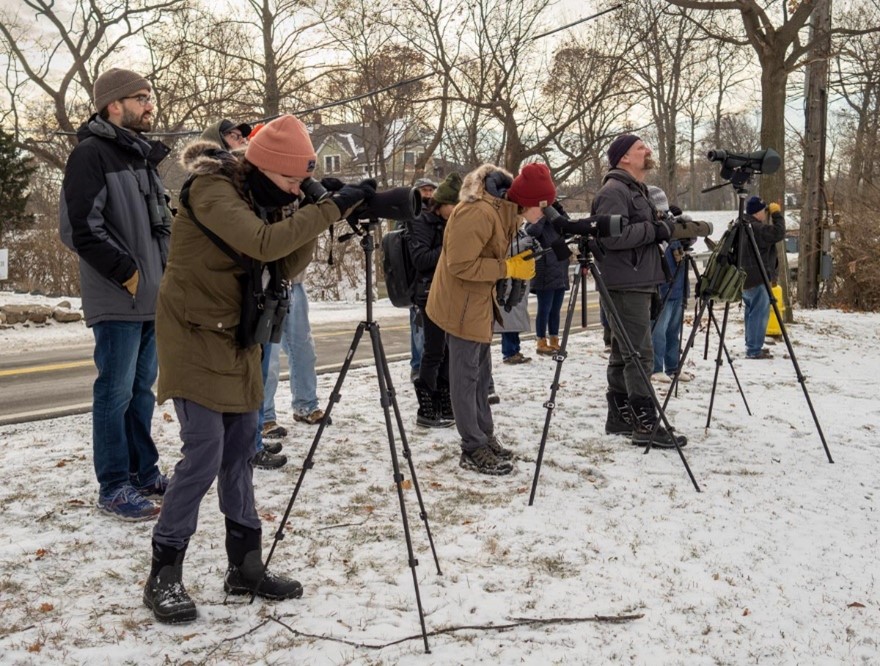 Great Lakes Moment is a monthly column written by Great Lakes Now Contributor John Hartig. Publishing the author's views and assertions does not represent endorsement by Great Lakes Now or Detroit Public Television.
---
A good example of community science in metropolitan Detroit is the Rockwood Christmas Bird Count, which is part of the longest-running community science survey in the world.
Community or citizen science is public involvement in environmental monitoring and scientific research to help improve civic understanding of both science and the scientific method, management of ecosystems, and development of a stewardship ethic. It is often done in collaboration with or under the direction of professional scientists or scientific institutions.
Prior to the turn of the 20th century, hunters engaged in a holiday tradition known as the Christmas "Side Hunt." Hunters would choose sides in this holiday sporting event and see who could shoot the most birds and mammals.
As an alternative to this hunting tradition, American ornithologist and Audubon Society Officer Frank Chapman asked birders across North America to head out on Christmas Day 1900 to count the birds in their hometowns and submit the results as a "Christmas Bird Census."  This first Christmas Bird Census has now become an annual holiday tradition called the Christmas Bird Count, representing the longest-running database in ornithology.
During the first count in 1900, there were 27 participants who surveyed 25 places in the United States and Canada. In 2022, the 123rd annual Audubon Christmas Bird Count, there were nearly 80,000 volunteer bird counters who participated at more than 2,600 locations across the United States, Canada, Latin America, and the Caribbean. Amazingly, this community science initiative now represents over a century of unbroken data on trends of early-winter bird populations across the Americas.
The Rockwood Christmas Bird Count has been held annually since 1974, representing 49 years of systematic counting of winter birds. It is held in the lower Detroit River watershed and is sponsored by the Detroit Audubon Society. It is one of two Christmas Bird Counts conducted by Detroit Audubon – the other is the Detroit Christmas Bird Count.
The Rockwood survey area or territory is a 15-mile diameter circle, including Grosse Ile, Lake Erie Metropark, Trenton, Rockwood, South Rockwood, Newport, and Oakwoods Metropark. Volunteers spend the day from before sunrise — for spotting or hearing owls — to sunset counting both species and numbers of each species as part of this network of counts throughout North and Latin America. This 2022 Christmas Bird Count was conducted on December 27.
In total, 84 species and 95,723 individual birds were counted.
"The most exciting thing on this year's count was 1,820 Sandhill Cranes," said Tom Carpenter, Coordinator of the Rockwood Christmas Bird Count. "Normally, we are happy to see any cranes on the count, but having so many is exceptional."
Other highlights of this year's count included three Iceland Gulls, four American Pipits, and 28,196 Redheads — medium-sized diving ducks that feed on submerged aquatic plants. Canvasbacks, Bald Eagles, Red-shouldered Hawks, Tufted Titmouse, White-breasted Nuthatches, and Eastern Bluebirds were found to be more numerous than usual.
"Along the southern end of Grosse Ile, the largest island in the Detroit River, volunteers reported 17 bald eagles on the ice, an estimated 20,000 Canvasbacks, about as many Redheads, a smattering of other ducks, and Tundra and Mute swans," said Dr. Jim Bull of Detroit Audubon Society. "We even spotted a Pied-billed Grebe at Sunrise Park off the eastern shore of Grosse Ile and a Turkey Vulture flying over at Gibraltar Bay."
Following the Christmas Bird Count, data is sent to the National Audubon Society, where it is compiled to measure bird status and trends on a continental scale. This extensive, long-term database has documented population trends for hundreds of species of birds in the Americas, many of which are declining.
This extensive database is viewed as invaluable and has contributed to many studies of bird populations. For example, Christmas Bird Count data have been used as one of the 26 indicators of climate change by the U.S. Environmental Protection Agency, in State of Bird Reports produced by the American Bird Conservation and U.S. Fish and Wildlife Service, and in State of the Strait Reports assessing ecosystem health in the Detroit River and western Lake Erie.
Community science is not just focused on birds. The public is involved in monitoring and researching fish, invertebrates, and plants. Clearly, the need for and interest in such community science initiatives is growing. The ultimate goal of natural resource managers and scientific researchers should be to make community science so compelling that it leads to a transformative moment that inspires individual respect, love, and stewardship of ecosystems. It should not be viewed as just a nice thing to offer, but an essential component in improving scientific literacy and developing a stewardship ethic.
Other benefits of community science include:
Developing a personal connection to the places citizens work and study
Gaining an understanding of environmental and natural resource problems, challenges, and needs
Learning about scientific methods and how science contributes to natural resource management
Becoming involved in environmental and natural resource management decision-making
Building the capacity of governments, non-governmental organizations, and other stakeholder groups to fulfill their environmental and natural resource missions
Achieving these benefits will require effective community science project planning and implementation that ensures measurable results, expands knowledge, strengthens science-policy linkages, provides meaningful experiences for volunteers, and ensures that volunteers have fun.
Today, 80% of all Americans and Canadians live in urban areas. Most of these urbanites are still disconnected from the natural world. We need a "community science spring" that reconnects people with nature and does it in an inspirational fashion that creates a civic stewardship ethic. As Aldo Leopold has taught us, "when we see land (an ecosystem) as a community to which we belong, we may begin to use it with love and respect."
John Hartig is a board member at the Detroit Riverfront Conservancy. He serves as a Visiting Scholar at the University of Windsor's Great Lakes Institute for Environmental Research and has written numerous books and publications on the environment and the Great Lakes. Hartig also helped create the Detroit River International Wildlife Refuge, where he worked for 14 years as the refuge manager.
---
Catch more news at Great Lakes Now:
Great Lakes Moment: The great blue herons of Stony Island
Great Lakes Moment: Detroit's benefits of a national urban park in Windsor
---
Featured image: Rockwood Christmas Bird Count, 2022. (Photo courtesy of Evan Deutch via John Hartig)