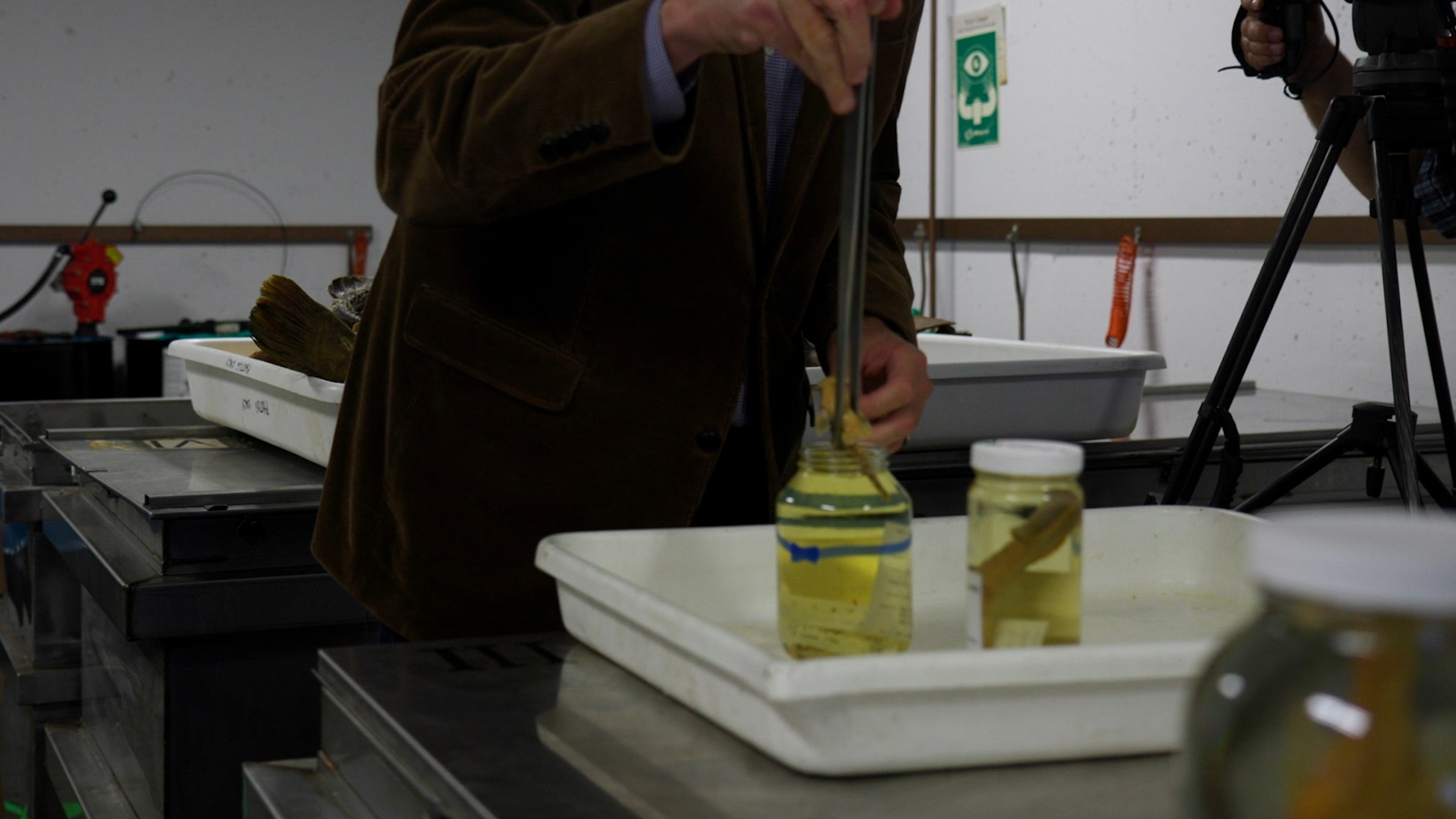 Most professions offer a range of subspecialties to choose from.
Want to be a doctor? What kind? Surgeon, pediatrician, neurologist…?
Want to work construction? What kind? Plumer, electrician, carpenter…?
The study of fishes is different only in that the subspecialties are far less familiar to people outside the field.
Nathan Lujan and Mary Burridge at the Royal Ontario Museum in Toronto, along with Brad Utrup and Jan-Michael Hessenauer with the Michigan Department of Natural Resources helped unravel some of the differences between fish scientists.
Hatching fish scientists
If there is a common denominator to women and men who select a career in fisheries research, it may be rooted in early childhood.
Hessenauer remembers visiting his uncle's house on a lake near Kalamazoo, Michigan. "As a kid growing up, fishing was always one of the big highlights and just being out on the water. I wanted to be able to do that for a living," he said.
Utrup also grew up fishing with his grandfather who ran a charter boat on Lake Erie. "I got to spend a lot of time on the Great Lakes at a young age. I've always been kind of enamored with the lakes. So, I knew this was eventually where I wanted to end up," he said.
Burridge spent her childhood summers "playing all day in the water" with her mother and sisters at their family cabin in Muskoka, Ontario, a few hours north of Toronto. Her favorite uncle was a fisheries biologist with Fishes and Oceans Canada and chairman of the Great Lakes Fisheries Commission in the 1970s.
"I always thought it was a really cool job," Burridge said.
Lujan grew up further south in Tennessee. "As a child, I just found streams to be a fascinating corridor across the landscape, something that I had to myself that wasn't populated by cars and people," he said.
Each researcher developed a deep connection to water and fish at a young age. But while fishing played a major role for both Hessenauer and Utrup and would continue to be the focus of their work, Burridge and Lujan's dreams skewed in a slightly different direction.
"I always wanted to be that first person to dip into the water and see something completely new," Lujan said.
Rearing knowledge
A bachelor's degree in biology is a foundational degree for most fisheries work.
"When you're a biologist, you're just studying a life form of some kind. It could be deer. It could be fish, whatever," Utrup said.  "I have a bachelor's degree in biology and environmental studies."
Utrup is a biologist who works in fisheries management for the Michigan DNR but his job title is not a fisheries biologist.
"I'm a fisheries technician," he said.
The technician role varies depending on the goals of each station, but Utrup said the fisheries station in Mount Clemens, Michigan, where he works is focused primarily on research.
Fish population surveys involve a lot of hands-on field work which Utrup enjoys. In the winter he does everything from fish-aging studies in the lab to repairing torn nets.
"We break a lot of stuff during the field season, so we spend a lot of winter fixing things. I think my talents really line up with the work that we do," he said.
Hessenauer has a bachelor's degree in biology and a PhD in natural resources and the environment from the University of Connecticut. He currently works as a fisheries biologist with the Michigan DNR.
"I really liked the research process. I like having a question and trying to figure out the answer. I really like the process of how that happens," he said.
Hessenauer is most interested in how human activity like fishing and changes to the environment impact fish populations.
"Like, how much can we fish? Or can we fish during this time of year? Can we fish during the reproductive season and what does that mean for the individual fish species? Those have been the questions that I've always been interested in," Hessenauer said.
Burridge has a bachelor's degree in biology specialized in fisheries from the University of Guelph. She is an assistant curator at the Royal Ontario Museum where she helped to develop the Schrad biodiversity gallery one of the museum's most popular exhibits.
Burridge also coordinates and runs the ROM's fish identification workshops. To perform fish surveys successfully, fisheries biologists must be able to properly identify every single fish they catch.
Distinguishing an emerald shiner from a silver shiner is challenging and an example of why a certificate from the ROM fish identification workshop is often a requirement for any municipal, conservation authority, provincial or federal fisheries job in Ontario, Burridge said.
Nathan Lujan is an ichthyologist with a PhD in evolutionary biology from Auburn University. He is the associate curator of fishes at the Royal Ontario Museum where he oversees and manages one of the top 10 fish collections in North America.
"Ichthyologists ask questions about why we see the biodiversity that we see today and what kind of factors are critical to the origination of that biodiversity and to the maintenance of that biodiversity," he said.
As an ichthyologist, Lujan studies the origins of fish and their evolutions over time. His museum role also involves cataloguing biodiversity by collecting and describing new species.
Each of these fish scientists has taken a different career path to achieve similar childhood ambitions and all have been successful.
Releasing science
Burridge has worked at the Royal Ontario Museum for 35 years.
A big part of museum work is collecting and describing new species, and Burridge has participated in expeditions in the Indo-Pacific from Madagascar to Fiji as well as locations throughout South America. She has identified and described 15 to 20 new species of fish.
Related:
Looking back on her career, Burridge is most grateful for the opportunities she had to travel.
"You feel like Dr. Livingston or something going someplace that nobody's ever been before. It was just such a thrill," she said.
The young woman who learned to scuba dive as a teenager and taught canoeing while her friends worked retail jobs at the mall, ended up traveling the world discovering new species of fish and stockpiling a memoir's worth of stories like when a teammate was bitten by an anaconda.
(They bandaged the wound, ate lunch and went right back into the river.)
Utrup and Hessenauer have worked for the Michigan DNR for 15 and 7 years respectively. Utrup enjoys the diversity of tasks his technician role requires.
"I get to set the nets; drive boats and every day is different. We're on different bodies of water all the time. The variety of work that we get to do is neat and always keeps it interesting," Utrup said.
Hessenauer likewise appreciates the diversity of his work.
"During the spring and summer when the weather's nice, we're outside working on the water and then in the fall and winter back in the office, looking at the data and analyzing it and writing about it. So, I really like both parts of my job," Hessenauer said.
They agree that the best part of their work is being out on the water.
"You actually get to hold the fish in your hands, look at them, and try to figure out how they're doing as a population," Hessenauer said.
The young men who loved to fish and dreamt of workdays spent out on the Great Lakes have also achieved their goals.
"The work that we do is incredibly rewarding," Utrup said.
And the boy who wanted to dip a net in and find a new species of fish recently returned from a collection expedition on the Amazon River in Peru.
"I've done about two dozen expeditions to various parts of South America and discovered and described over 40 species of fishes," Lujan said.
---
Catch more news at Great Lakes Now: 
I Speak for the Fish: A jarring look at gizzard shad
I Speak for the Fish: Taking the measure of a rainbow darter
---
Featured image: Each jar at the Royal Ontario Museum contains one or more individuals of a single species collected at a single time, at a single place. This is important because it provides a historical record of biodiversity. (Photo Credit: GLN)