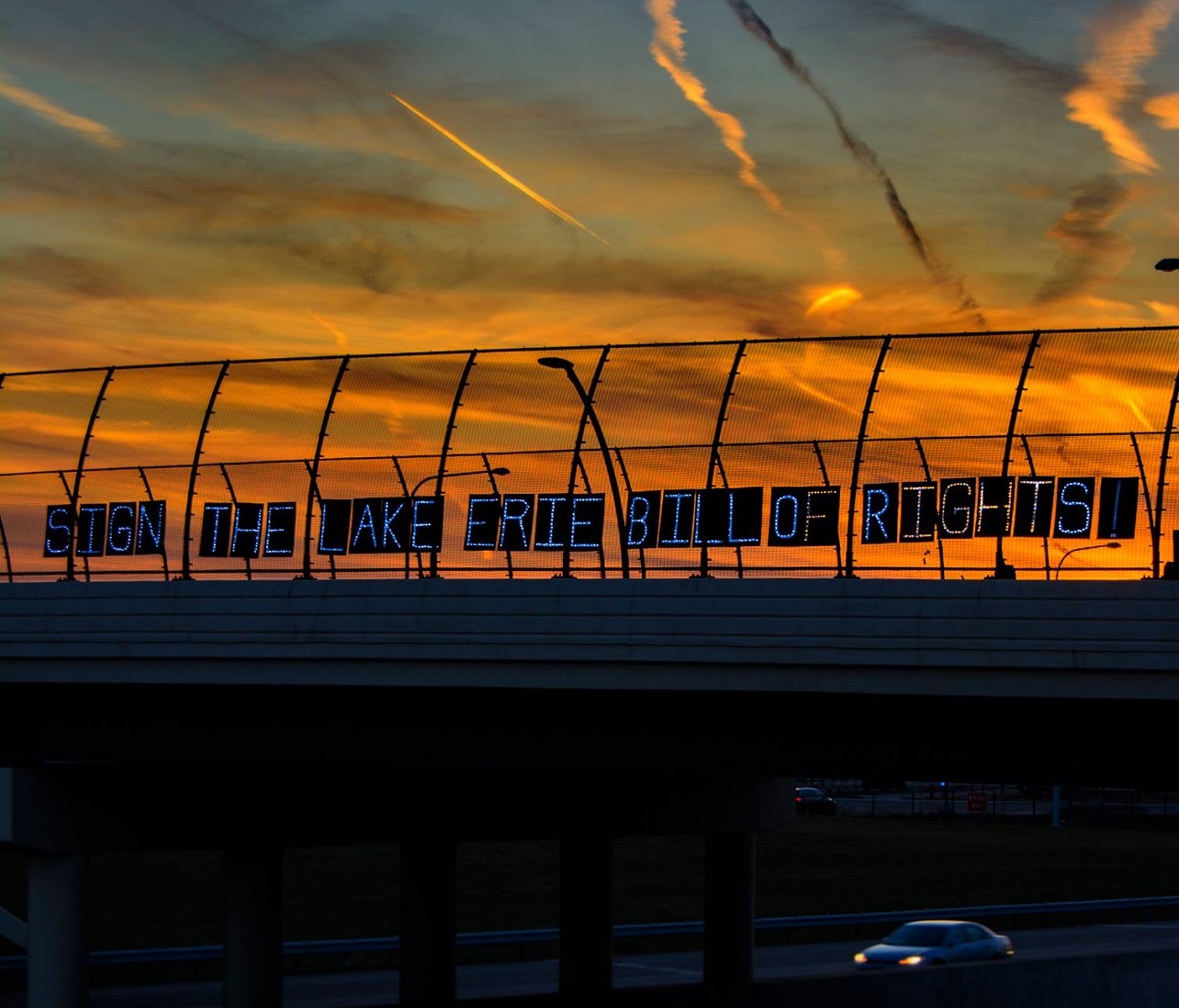 In 2014, Toledo wasn't thrust into the international spotlight for good reasons when toxic algal blooms shut down its water plant for several days. But to some, that marked the beginning of great things for the city and for Lake Erie.
"People don't usually think of a Rust Belt city as being progressive," said Markie Miller, one of the handful of organizers that worked nonstop for two years to get the Lake Erie Bill of Rights placed on the February 2019 ballot. "But now, yeah, I think so."
Rights of Nature is a movement and the idea that nature itself, that a forest, river, lake or an underground aquifer, have the same type of inalienable rights that people do. It's an idea being explored legally around the world. LEBOR was the effort to grant Lake Erie those rights.
Miller and a tiny complement of volunteers with Toledoans for Safe Water, including a core group of less than a dozen, worked tirelessly to get the bill on the ballot. Their aim: protect the entire Lake Erie watershed, all 30,140 square miles of it.
And it worked, with the ballot successfully voted in by the people of Toledo.
Garnering 61 percent of the vote and having been outspent by major, out-of-state corporate interests by a margin of more than $50-to-$1, LEBOR was finally law.
Until the next morning, when a farm in the region challenged the city of Toledo's freshly minted Lake Erie protections. Toledo attorneys mounted a defense. TSW filed to intervene on Lake Erie's behalf and was denied. Ohio's attorney general joined the action against LEBOR, citing conservation of the lake as the state's sole purview.
On Jan. 28, it all came to rest in the hands of Judge Jack Zouhary, of the U.S. Northern District Court of Ohio, where he will make the final decision on LEBOR. There is no timeline on when the court may rule on LEBOR.
Rights of Nature's larger picture
Will Falk, a Colorado attorney who has worked on the case for Community Environmental Legal Defense Fund, a community rights group assisting TSW, said he thinks it will likely die in the federal courthouse.
Even so, that's not the point, according to Falk.
"If LEBOR's invalidated, the city could appeal the decision. But in terms of what to do next, I'm a big proponent that we know courts aren't interested in doing what's necessary to protect the natural world," he said. "So we're going to have to learn how to protect the natural world ourselves. And so for me that means direct action, we need to learn how to stop the farms that are polluting."
Falk's book, "How Dams Fall," details his relationship with and representation of the Colorado River in the nation's first federal lawsuit seeking Rights of Nature for a major ecosystem. There are parallels to LEBOR, he said. In each case, the state moved against the idea of legal representation for nature.
"The states in these situations are saying 'Look, we already have state laws in place.' One of the very basic premises of American law is that nature is property, an object for people to use. If we start doing things like granting nature legal rights standing to sue in courts, we are directly opposing centuries of legal custom," he said. "Exploitation of the natural world is what our entire economic system is based on."
In Colorado, the state's attorney general got involved "quickly and aggressively," Falk said.
"In the first few weeks the state didn't even respond to the merits of the case, just said, 'This is crazy and if you don't withdraw the lawsuit we're going to move forward with fines and sanctions,'" he said. "The lead attorney on the case could lose his license to practice law."
Oral arguments offer insight into two sides
CELDF attorney Terry Lodge attended the Jan. 28 hearing, though he did not participate because TSW, by Ohio Supreme Court ruling, was granted no legal standing in the case.
Part of the farm's arguments during that hearing involved attorneys expressing confusion at LEBOR language.
"What does it mean to be natural for example?" asked Thomas Fusonie, one of three attorneys representing the farm. "Community of organisms is also not defined. I have no idea what it means."
"What I saw today was an interesting civil discussion," Lodge said. "It focused an awful lot, and rightfully so, on whether corporate farmers that sued actually had any right to pursue this to try to strike down LEBOR. They actually stated in their complaint they don't believe they violated any laws but state that now they feel uncomfortable and at risk now that people have spoken."
Major laws which usher in monumental change are always challenging, Lodge said.
"I'd like to point out that when the Voting Rights Act was passed, when the Civil Rights Act was passed, there were a million questions and there are a million possible interpretations. And so in my view, it's a very weak argument to say 'By God, we have no idea what this means!' when in fact you do have some idea what this means," said Lodge.
Sarah Skow, one of the attorneys representing Toledo, near the end of the hearing implored Zouhary to consider a larger picture than nutrients run-off from farms. She referenced industrial dumping and pollution caused by large-scale agriculture, along with climate change, making citizens "feel that they are in an emergency situation as it relates to water quality and the need to protect their water."
According to Lodge, the court could sever some provisions of LEBOR it found unconstitutional and leave the constitutional parts intact.
But attorney Kimberly Herlihy, representing the farm, claimed that would be an unlikely proposition.
"I spent a lot of time yesterday interlineating this – this Charter Amendment to try to answer the very question you just asked, how could you possibly have something left after the swiss cheese we believe the Constitution would make of this statute…But again, it's completely vague and, you know, unable to be comprehended by the ordinary person what that really means in practice," she said during the hearing.
A spokesman for the Ohio attorney general's office declined to comment, saying the hearing transcript speaks for the state. Attorneys for Drewes Farms did not respond to requests for comment.
Lake Erie activists looking forward
On the courthouse steps after the Jan. 28 hearing, Miller was emotional.
"It's interesting to me this is all about protecting the lake. I'm glad we finally got a forum to make that statement and it was argued in-depth," she said, going on to say that legal pollution of Lake Erie and its watershed cannot continue. "They kept talking about criminal liability. Well, legalized pollution is what should be criminal."
Miller said she's been contacted by 13 counties in Florida who want to get Rights of Nature legislation on the books. But they were met with Senate Bill 1382, which blocks local governments from enacting laws that convey legal standing or rights to nature, unless authorized by the state.
"There are so many what-if scenarios, it just makes me exhausted," Miller said. "I can say that for the past six months we've been getting calls from other communities saying 'We want to do this. How did you do it? Send us all your information, tell us how you got started.'"
Similarly, in July 2019, Ohio legislators inserted language in the budget bill prohibiting any Rights of Nature cases being brought to common pleas courts in Ohio.
"I think no matter what happens in Toledo, even though it may be the end of this law, it's not the end of the movement," she said.
Miller said even if LEBOR meets its end, it's served the greater good.
"If we lose once and for all, we've moved the needle, absolutely," she said. "We've kept it going and exposed a lot of things that people were shocked to see. I think our exposure garnered a lot of that success. We got people all over the world talking about this."
A letter of support for LEBOR has been signed by more than 500 individuals and organizations including the Ho-Chunk Nation, Greenpeace USA, Karenna Gore and member of EU Parliament Marie Toussaint, among others.
International interest took a huge leap forward when Miller was invited to address the United Nations General Assembly on Earth Day last April.
Miller said networking across borders is crucial to LEBOR and Rights of Nature.
"Sharing with some big names that are watching what we're doing and approve of what we're doing and are on-board with it, I think it helps people come around from the idea this is just some scrappy, DIY grassroots from a Rust Belt city to a really organized and growing movement that needs to be taken seriously," she said. "We're not just out there causing trouble for the sake of causing trouble. It's our livelihoods, our health."
Connecting with nature is crucial to the future
Falk said the shrinking availability of nature itself, especially in urban areas, is troublesome and a factor in LEBOR and Rights of Nature movements.
"As more and more people live in cities and they expand, it's becoming harder for children to interact with the natural world in a meaningful way, and if part of protecting the natural world or living in balance with it is connecting with it I think we have a serious problem. A huge segment of the population can't connect. It's at the heart of our problems, right now." As species go extinct, so does their legacy, Falk said.
"There was a social scientist that had this study, and I believe they called it shifting baseline syndrome, particularly in fisheries where each generation of scientists that studies fisheries takes whatever baseline they begin their career with as normal or natural. And then with each baseline becoming smaller and smaller, they're not even remembering how plentiful some of these things were," he explained.
Falk said the same thing is happening with children, as animals disappear from everyday life and the planet.
"Kids will have no idea there was this amazing creature that existed before they were alive, and that's really scary to me," Falk said.
For Falk, earning a far more lucrative living in mainstream legal sectors like slip-and-fall, malpractice, car crashes or corporate law was never an option.
"When I think about those things, I get a little nauseous, really. To me, in my personal life the only thing I can think about is how the world is being destroyed and I don't think I would be able to spend most of my time not working on that," he said. "LEBOR is a beautiful, democratic expression of people who want to make a change."
Featured Image: Highway overpass sign erected by advocates. Toledoans for Safe Water, Photo by James Proffitt