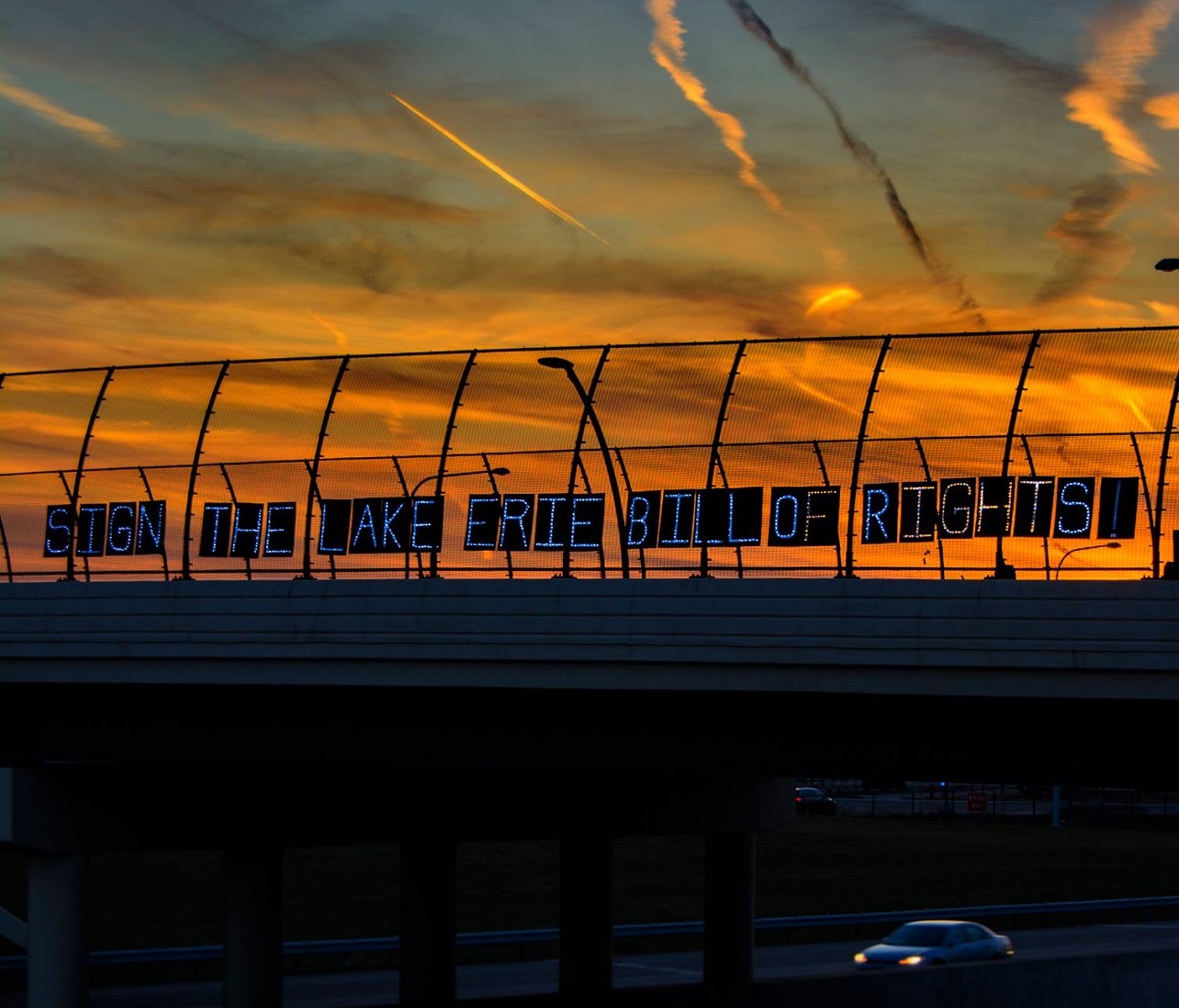 In February, voters in the city of Toledo overwhelmingly approved the Lake Erie Bill of Rights.
Now, six weeks later, the victory seems new again after the Lucas County Board of Elections released election finance records from groups supporting and opposing the measure that essentially would give the lake "standing" in court and allow individuals to file lawsuits on its behalf.
Records show:
Toledoans for Safe Water, the grass-roots organization advocating for LEBOR, $7,762.
The Toledo Coalition for Jobs and Growth, the group opposing the new ordinance, $313,205.
In total opponents spent $53.74 for each vote they received, while local activists spent nearly a tenth of that: 59 cents per vote.
Records indicate the funding for Toledo Coalition for Jobs and Growth came almost exclusively from a single source: the Houston, Texas-based BP North America. The corporate monies included a $302,000 wire transfer made Feb. 12, just two weeks in advance of the election.
In response to a Great Lakes Now inquiry, Michael Abendhoff, director of media affairs with BP's U.S. Downstream, responded in an emailed statement:
"BP believes a healthy Lake Erie is important to the region and to our employees who live and work along its shores. That's why we support the rigorous environmental permitting already in place and strong enforcement of existing laws to help protect this precious natural resource.
"We opposed the Lake Erie Bill of Rights because it undercuts those existing laws and allows individuals to file lawsuits against businesses that are operating properly under state or federally-approved permits. While we did not support this specific measure, BP remains committed to working with regional and state elected officials on Lake Erie issues and to a strong permitting process that protects this important resource for generations to come."
But money couldn't buy Toledo's election
Toledoans for Safe Water organizer Markie Miller said her group's funding was largely local and came in small amounts.
"We had pages and pages of contributions," she said. "We had a few businesses in the area donate money, usually $25 or $50, small donations. Sometimes when we would do a lot of events, people would actually pass the hat for us."
Records indicate that Miller and her fellow volunteers were recipients of numerous donations of just $5, $10 or $20.
Of the Toledo Coalition for Jobs and Growth total budget, 39 percent, or $132,352, went to New Troy Strategies and Yellowstone Associates. Both Virginia-based companies are registered to Mary Cheney, daughter of former Vice President Dick Cheney, who was CEO of Halliburton, a multinational energy services company involved in oil-field services contracts all over the globe.
According to Lucas County elections records, just $35,000 of the $336,911, a little more than 11 percent, was paid by Toledo Coalition for Jobs and Growth to Ohio companies.
Toledoans for Safe Water, on the other hand, spent more than 99 percent of its money in Ohio, with  more than 85 percent going to Toledo-area businesses. Its only out-of-state expenditures were for PayPal fees.
Crystal Janko, another Toledoans for Safe Water organizer, said she wasn't all that surprised at the opposition's money situation.
"We knew the opposition was going to come at us, we just didn't know where from," she explained. "We assumed it wouldn't be Toledo-based and we assumed we'd be rustling feathers outside our area. So when it came out that it was BP it was still a shock, just the amount they spent."
Lake Erie Bill of Rights still navigating court
And just what's on tap in the future? After a string of lawsuits in the process to get the Lake Erie Bill of Rights on the Toledo ballot, and after voters approved it, a farm operation in northwest Ohio sued in federal court to stop its enforcement the day after the election.
Drewes Farm Partnership filed suit against the City of Toledo the day after the election. On March 18 the Lake Erie Ecosystem and Toledoans for Safe Water filed a motion to become intervenors in the case, siding with the City of Toledo. Subsequently, Ohio Attorney General David Yost filed a motion to become an intervenor on the state's behalf, siding with Drewes Farm.
Janko said that no matter what eventually happens with the Lake Erie Bill of Rights, the election and its aftermath have helped raise awareness about environmental issues, which is a positive move.
"No matter where we end up, wherever LEBOR ends up, it's being talked about in ways it's never been talked about before," she said. "And those are conversations that need to happen."