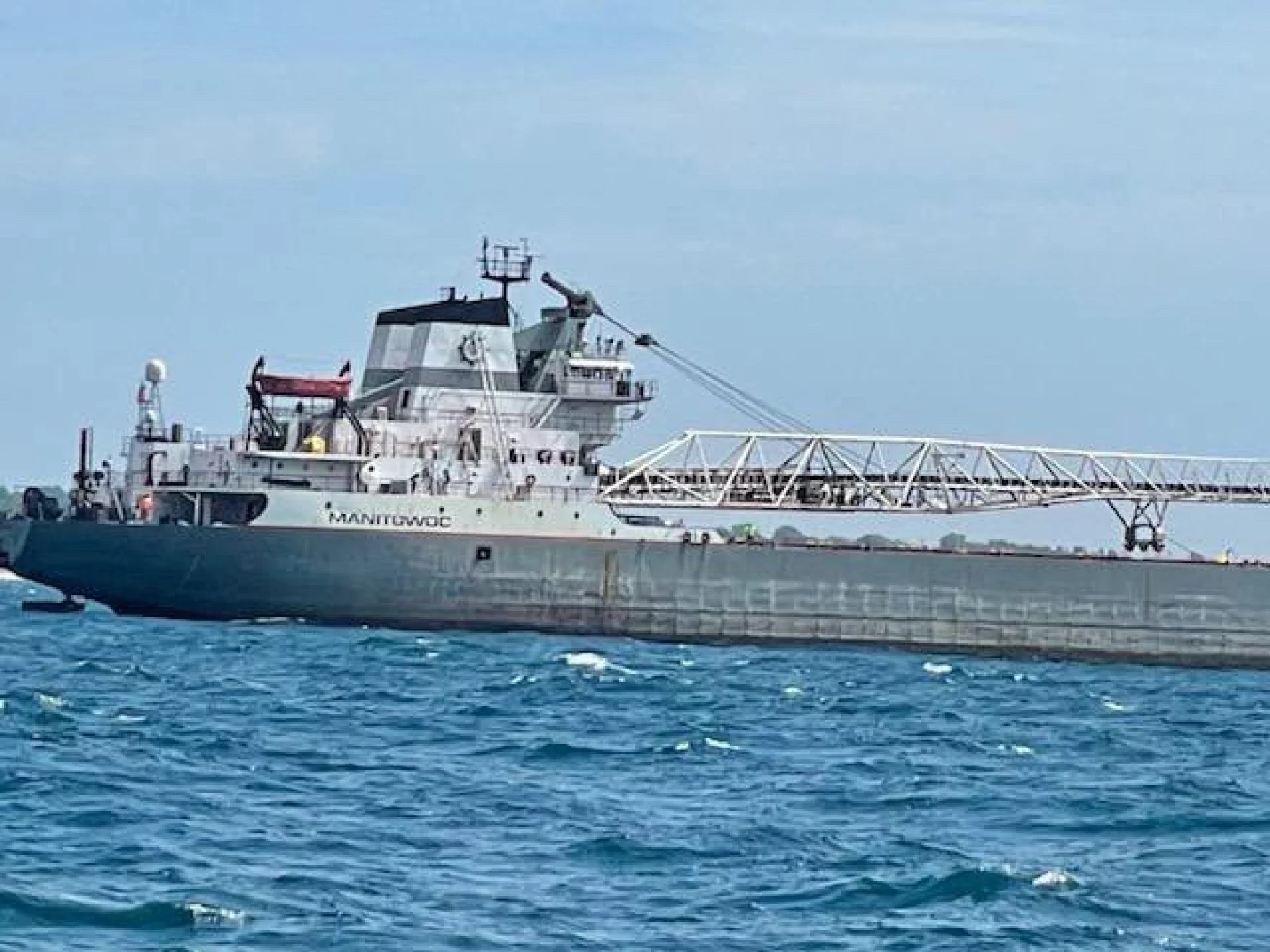 By Katheryne Friske, Michigan Radio
The Great Lakes News Collaborative includes Bridge Michigan; Circle of Blue; Great Lakes Now at Detroit Public Television; and Michigan Radio, Michigan's NPR News Leader; who work together to bring audiences news and information about the impact of climate change, pollution, and aging infrastructure on the Great Lakes and drinking water. This independent journalism is supported by the Charles Stewart Mott Foundation. Find all the work HERE.
---
U.S. Coast Guard personnel, along with state and local agencies are responding to a diesel spill in Lake Michigan, about 1.5 nautical miles offshore of Manistee, Michigan.
At approximately 2:50 p.m. Aug 2, the 612 foot bulk carrier motor vessel Manitowoc reported a hull breach on its starboard diesel tank. The maximum spill potential is 45,174 gallons of diesel.
At the time of the report, the vessel was at anchor northwest of where the Manistee River enters Lake Michigan. A red slick covered an area equal to 115 acres. The Coast guard said the cause of the diesel spill is still under investigation.
The motor vessel Manitowoc reports it has activated their response plan and their diesel spill removal organization is working to contain the spill. They said the vessel is no longer leaking diesel. Internal diesel transfers lowered the fuel levels in the damaged tank to fall below the hole, which has been plugged.
In response to the diesel spill, the USCG said a Unified Command has been established to oversee and direct cleanup response efforts. The USCG, the ship's owners, the Department of Environment, Great Lakes, and Energy (EGLE), Manistee County Emergency Management, Benzie County Emergency Management, Little River Band of Ottawa Indians, Manistee and Benzie County Sheriff's Offices, and the City of Manistee are all working together in this effort.
No known impact to beaches or drinking water have been reported.
Diesel is a hazardous material and can present significant health hazards. The USCG asked the public to stay away from areas that have diesel and to not attempt rescuing injured wildlife. The number to call for any confirmed sighting of diesel reaching the shoreline is (231) 723-6241.
Updates can be found on the Ninth Coast Guard District's Twitter page: @USCGGreatLakes
---
Catch more news at Great Lakes Now: 
Research vessels are on the Great Lakes, but there's no crew on board
US House budget proposal cuts funds for water system upgrades and polluted communities
---
Featured image: The Manitowoc was 1.5 miles offshore from Manistee, MI when it's diesel tank started leaking. (Courtesy of United States Coast Guard)