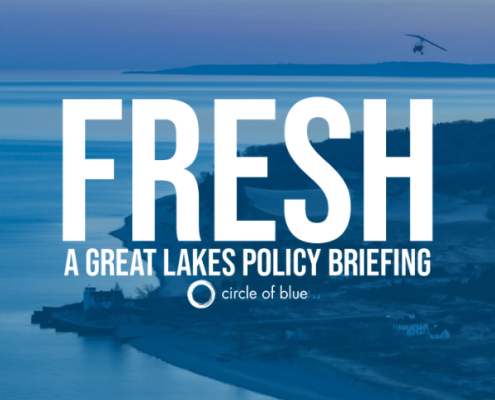 June 14, 2022
Fresh is a biweekly newsletter from Circle of Blue that unpacks the biggest international, state, and local policy news stories facing the Great Lakes region today. Sign up for Fresh: A Great Lakes Policy Briefing, straight to your inbox, every other Tuesday.
— Laura Gersony, Fresh Editor
This Week's Watersheds
Researchers find that federal data does not capture local variations in Ohio's air pollution.
A Wisconsin judge delays enforcing an April decision that would limit the state's power to clean up pollution.
A controversial mine in Minnesota challenges the possibility of a "just transition" to clean energy.
Ohio residents mobilize against county commissioners' restrictions on wind development.
In rural Michigan, the environmental consequences of industrial waste reuse are coming to light.
"This is a place where our lax chemical regulations, combined with the fact that we lack good polluter pay laws to hold industry accountable, coupled with the fact that we don't have enough oversight and testing of agriculture products, is coming to a focal point."

— Christy McGillivray, Michigan Sierra Club

The state of Michigan is investigating the legacy of industrial pollution in and around the rural town of Walkerville, MLive reports. Waste from a leather tannery was spread on farmland as fertilizer starting in the 1990s. Recent testing has detected toxic PFAS chemicals and heavy metals such as chromium in groundwater and soils. Activists fear that the chemicals may have contaminated hogs that were raised there, tainting food exported across the country. State officials say the risks of PFAS spread through agriculture are largely unknown.
Fresh from the Great Lakes News Collaborative
Last month, the Great Lakes News Collective investigated the true cost of water in Michigan. Catch up on this 10 part series here.
The Great Lakes News Collaborative includes Bridge Michigan; Circle of Blue; Great Lakes Now at Detroit Public Television; and Michigan Radio, Michigan's NPR News Leader. We work together to produce news and information about the impact of climate change, pollution, and aging infrastructure on the Great Lakes and drinking water. This independent journalism is supported by the Charles Stewart Mott Foundation. Find all the work here.
Regional Pollution Monitoring Misses Local Variation, Study Finds
Citizen-led air monitoring can detect variation in air pollution that federal programs do not capture, a new study finds. Researchers developed a "grassroots" data collection system in Belmont County, Ohio, Energy News Network reports. Citizens in the heavily fracked area were outfitted with low-cost pollution monitors. The results revealed patterns that are not captured in sparse regional monitoring used by the U.S. Environmental Protection Agency, including striking trends in environmental health. Spikes in emissions from oil and gas wells corresponded to residents' reports of physical symptoms such as nausea. The study's authors say local data networks can inform more effective environmental rulemaking and permitting.
In the News
PFAS REGULATION: A Wisconsin judge is temporarily allowing the state to continue cleaning up toxic PFAS chemicals, the Wisconsin State Journal reports. The court ruled in April that state regulators must create an exhaustive list of the chemicals considered hazardous, including PFAS, before they can require a polluter to clean up a spill. The latest decision allows the state Department of Natural Resources to continue its cleanup efforts—such as distributing bottled water to houses with PFAS-contaminated wells—while an appeals court reviews the April ruling.
A "JUST TRANSITION": The priorities of environmental protection and climate change mitigation are colliding in the fight over a proposed mine in northeastern Minnesota, writes Grist. Nearly two decades of resistance from environmental and tribal groups have delayed the mining company PolyMet from opening a copper-nickel mine upstream from the Fond du Lac Band of Ojibwe. The company claims that the project would allow it to become one of the nation's top providers of metals that are needed to build clean energy infrastructure. Many environmental and tribal groups fiercely oppose the mine, noting the toll it could take on local waterways and ecosystems. Some activists interpret the saga as a test of a "just transition," or the attempt to switch to renewable energy without harming already vulnerable people.
Why it matters: Entering office, President Joe Biden promised to elevate the issue of environmental justice: addressing the legacy of pollution and under-investment in historically marginalized communities. Last year, Circle of Blue reporter Brett Walton sat down with two leaders of the American environmental justice movement to discuss the possibilities and obstacles facing the new administration.
Looking Ahead
WIND FARM DEVELOPMENT: Citizens of Crawford County, Ohio, are working to overturn a recent decision by county commissioners to restrict wind farm development, the Telegraph Forum reports. Last month, commissioners voted to limit wind energy to incorporated areas, a measure aimed at blocking the proposed Honey Creek wind plant. Over 2,500 residents have signed a petition opposing the measure, which would force a November referendum vote on the issue. Opponents of the wind farm say that the associated zoning restrictions would violate landowners' property rights, while proponents point to the plant's value as a renewable resource and economic boon for the county.
Other News
Residents of a flood-prone town in western Ontario call for more government support, as storms batter Fort Frances and the Rainy River basin.
Minnesota state legislators pass a bill that would fund brook trout habitat restoration, among several dozen other "high-priority conservation projects."
---
Catch more news at Great Lakes Now: 
FRESH: EPA Recommends Against Minnesota Mining Permit
FRESH: Biden Strengthens Environmental Reviews for Large Infrastructure Projects