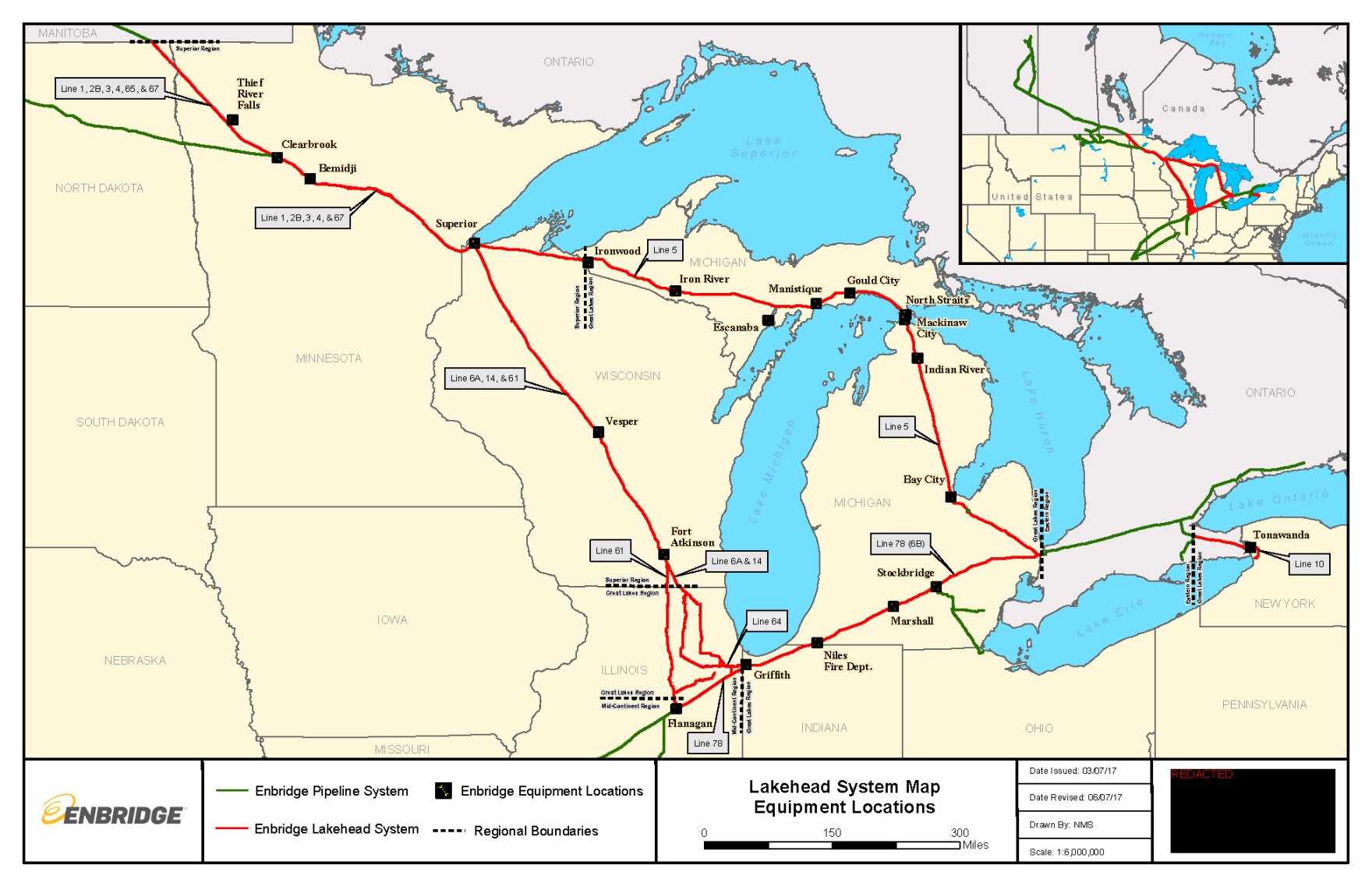 One of the latest updates in Enbridge's ongoing Line 5 court cases is a report from Neil Earnest, president of an energy consultancy firm, filed by Enbridge.
In the report, Earnest estimates that in the event of a Line 5 shutdown, gas, jet fuel and diesel prices would increase by half a cent per gallon in Michigan and Wisconsin, and 5 cents per gallon in Ontario.
Enbridge operates the Line 5 pipeline, part of which runs through Wisconsin and Michigan land, including a section anchored to the lake bottom in the Straits of Mackinac, the source of a lot of regional controversy. The Canadian energy company has proposed replacing the section of pipeline in the water with twin tunnels that would be drilled in the lake bottom's bedrock. Some environmental groups, Tribes and others want no oil in or near the Great Lakes, but others support the energy network that provides an estimated 334,700 barrels of crude oil per day to refineries in Michigan, Ohio, Pennsylvania, Ontario and Quebec.
The report was filed at the end of May in the U.S. District Court for the Western District of Wisconsin in the case between Enbridge and the Bad River Band of the Lake Superior Tribe of Chippewa Indians of the Bad River Reservation. The Tribe wants Enbridge to remove Line 5 from reservation lands.
Earnest is a chemical engineer with over 35 years of experience in the energy industry and has provided expert testimony on behalf of Enbridge since 2006.
"For at least the last 6 months, Enbridge has been aware that the shutdown of Line 5 will not significantly impact gas prices," said Sean McBrearty, campaign coordinator for Oil & Water Don't Mix, during a press conference.
Enbridge and energy industry supporters have previously claimed or implied a much larger financial impact on consumers in the event of a Line 5 shutdown, such as in a February Consumer Energy Alliance report. The report predicted an increase in transportation fuel prices in Ohio and Michigan of between 9.47% and 11.66%.
It also came shortly after a January report from Environmental Defence in Canada that stated the impact of a Line 5 closure on gas and diesel fuel in Ontario and Quebec "would likely be very modest, to the point that such changes would likely go unnoticed." The Environmental Defence report predicted an increase of 2 cents per liter (roughly 7.57 cents per gallon), higher even than Enbridge's recent report that predicted 5 cents per gallon.
"International energy markets control oil prices, not any one single pipeline," said Michelle Woodhouse, water program manager for Environmental Defence.
Michigan Attorney General Dana Nessel's case against Enbridge is also ongoing, and Enbridge is waiting on permits from the Michigan Public Service Commission and U.S. Army Corps of Engineers.
Enbridge did not immediately respond to Great Lakes Now's request for comment.
---
Catch more news on Great Lakes Now:
Gas and oil industry report projects fuel price hikes if Enbridge Line 5 is shut down
New report finds Enbridge Line 5 closure will cause little pain to Michigan
---
Featured image: A map of Enbridge pipelines around the Great Lakes area. (Photo Credit: Enbridge Energy/Public Copy)