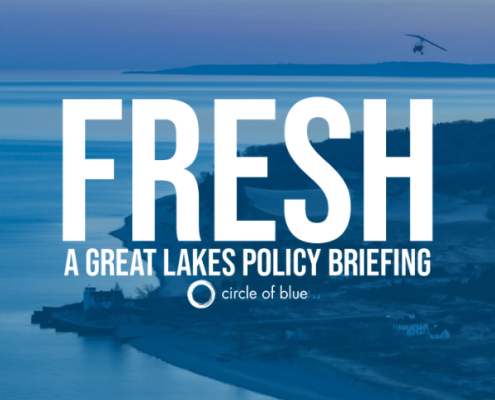 Fresh is a biweekly newsletter from Circle of Blue that unpacks the biggest international, state, and local policy news stories facing the Great Lakes region today. Sign up for Fresh: A Great Lakes Policy Briefing, straight to your inbox, every other Tuesday.
— Laura Gersony, Fresh Editor
This Week's Watersheds
The U.S. Environmental Protection Agency warns against reissuing a critical permit for a controversial mine in northeastern Minnesota.
Nuclear plant closures may put Michigan's clean energy goals out of reach.
Some leaders of Canada's First Nations voice dissatisfaction with the government's drinking water settlement.
New York's legislature passes what may become one of the toughest environmental justice laws in the country.
A survey finds that many Minnesota cities are not adequately planning for climate change.
Candidates in Pennsylvania's 17th Congressional District grapple with the environmental health toll of industry.
"It's almost like it's part of the DNA of Beaver County: 'My father worked in the mill; my grandfather worked in the mill, and yeah, their life got cut short,' but you know…It's accepted."

— Karen Gdula, resident of Center Township, Pennsylvania.

Energy policy is a lightning rod issue in Pennsylvania's 17th Congressional District, Inside Climate News reports, where the perennial struggle between industry and the environment is as heated as ever. As the swing district approaches November's congressional election, voters are weighing jobs and economic growth alongside the toll industry has taken on people's health and the landscape. The election comes at a moment of transition: Beaver County's last coal-fired power plant shut down just months ago, and the oil and gas company Shell is constructing a massive plastics plant in the district. Candidates from both parties claim they want to protect residents against pollution. Republicans tout fossil fuels and fracking as engines of economic growth, while Democrats emphasize the urgency of responding to climate change and the potential of the clean energy industry.
Fresh from the Great Lakes News Collaborative
As the nation prepares to pour hundreds of billions of federal dollars into rescuing water systems, the Great Lakes News Collaborative investigates the true cost of water in Michigan. Read stories from the GLNC's ten-part series:
The Great Lakes News Collaborative includes Bridge Michigan; Circle of Blue; Great Lakes Now at Detroit Public Television; and Michigan Radio, Michigan's NPR News Leader. We work together to produce news and information about the impact of climate change, pollution, and aging infrastructure on the Great Lakes and drinking water. This independent journalism is supported by the Charles Stewart Mott Foundation. Find all the work here.
EPA Discourages Reissuing Critical Permit for Contested Minnesota Mine
Federal regulators urged the Army Corps of Engineers not to reissue a key permit for the proposed PolyMet copper-nickel mine, the Star Tribune reports. In hearings over the Section 404 wetlands permit, the Environmental Protection Agency warned that the project could contaminate the St. Louis River with mercury and other pollutants. The Army Corps had previously approved the permit, allowing PolyMet to fill around 1,000 acres of wetlands at its proposed mine site with dredged material, but the permit was revoked after a federal court found that the company failed to notify tribes downstream of the mine. While the recommendation is non-binding, parties opposing the project believe it will influence the Army Corps. The project has long faced opposition from the Fond du Lac Band of Lake Superior Chippewa, which is invoking its sovereignty under the Clean Water Act as a "downstream state" to review the permits. It is the first tribe in U.S. history to do so.
In the News
NUCLEAR ENERGY: The looming closure of the Palisades nuclear power plant in Michigan may push the state's clean energy goals out of reach. Carbon emissions will likely increase as the electricity sector pivots from carbon-free nuclear power to natural gas, industry experts and energy regulators told MLive. The plant is shuttering due to economic pressures, a move experts believe will jeopardize Michigan's goal of generating 60 percent of its electricity through renewable sources in the next eight years. In April, President Joe Biden announced a $6 billion program to rescue struggling nuclear plants. Whether the funds will materialize in time to save the Palisades plant is still unknown.
FIRST NATIONS WATER CRISIS: Leaders of some First Nations communities say they are dissatisfied with a settlement reached with the Canadian federal government over a drinking crisis that has haunted the country's Indigenous peoples for decades. CBC reports that some nations are compensated for only a fraction of the time they spent under a drinking water advisory. According to Canada's Indigenous Services minister, a dozen of the 33 active long-term drinking water advisories in First Nations communities are expected to be lifted this year.
Looking Ahead
ENVIRONMENTAL JUSTICE: New York lawmakers passed a bill that would prevent new pollution in communities that already bear a heavy burden of environmental contamination, Grist reports. If signed into law, the bill would require state agencies, before issuing new permits, to consider the cumulative pollution burden that a neighborhood would face. It also prohibits actions that would have a "disproportionate or inequitable" pollution impact on minority or low-income residents.
CLIMATE ADAPTATION: The Minnesota Pollution Control Agency found that many Minnesota communities are not adequately planning for the impacts of climate change, writes MPR News. Despite already experiencing more severe rainfall and flooding, about a quarter of the state's cities, counties, and tribal nations have no plans to address extreme weather caused by climate change. Only 12 percent of surveyed communities have a dedicated climate adaptation or resilience plan, and almost half stated that they need more funding for infrastructure upgrades to address those problems.
Why it matters: While adaptation for climate change is more widespread than ever, the infrastructure of many cities is still not equipped to handle current and future weather events. The U.N. has found that across the world, the gap between current spending and needed funding for climate adaptation is enormous, and only widening, Circle of Blue reported in November.
Other News
---
Catch more news at Great Lakes Now: 
FRESH: Wisconsin Judge Strikes Down Toxic 'Forever Chemicals' Cleanup Rule