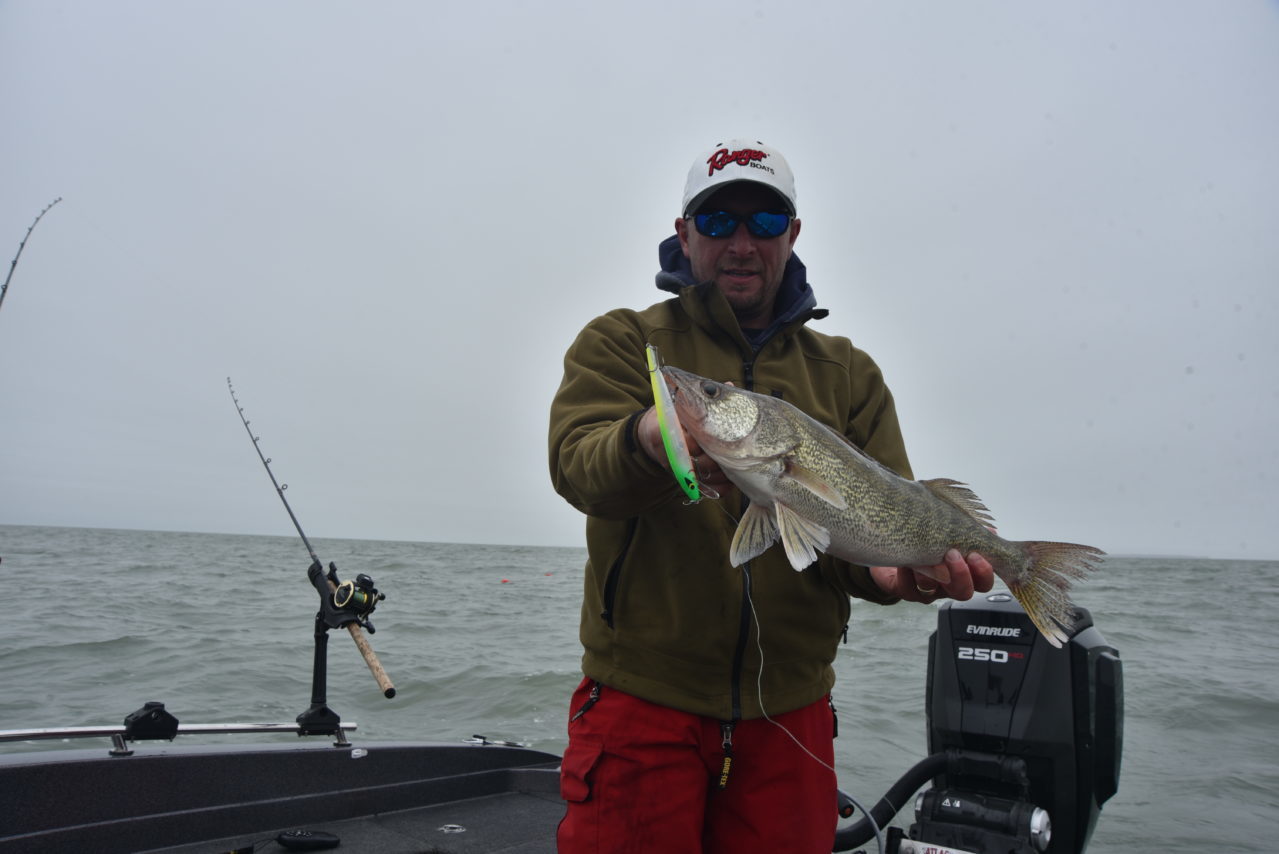 The walleye in Lake Erie have been feeling especially romantic recently, and plenty of folks hope the fish keep that sexy fish feeling alive this spring.
"In 2018 we had the third-highest walleye index, and in 2019 we had the second-highest index behind 2003," explained Eric Weimer, fisheries biology supervisor at the Ohio Division of Wildlife's research station in Sandusky.
Despite the fact the 2003 walleye hatch was the largest since the Ohio Department of Natural Resources' first implementation of the current modern survey system, the combined 2018 and 2019 hatches offer unprecedented numbers of fish in the lake.
"Each August, about 80 trawls are done between Ohio and Ontario in the Western Basin," Weimer explained. "The young-of-year (less than one year old) fish taken in August trawls will generally translate into adult fish in large numbers since they've already survived the spring hatch."
According to Weimer, his office and their Canadian counterparts also conduct autumn gill netting surveys to catch and count larger fish like walleye and other species that are too fast and wary to be caught in trawls. The trawls count the spring-hatched fish and the gill nets count the adult fish.
The results of the best spring hatch on record, in 2003, showed about 160 fish per hectare, just under 2.5 acres. The 2002 trawl located virtually no fish, while the 2004 trawl located less than 5 fish per hectare.
While historically the trawls can vary widely, the two latest have provided some modicum of consistency, with nearly 110 per hectare in 2018 and just over 140 per hectare in 2019. The 22-year running average is about 22 fish per hectare.
---
Read more about recreational fishing on Great Lakes Now:
(Almost) Everything You Want to Know about Lake Erie's Walleye Population
Great Lakes Fishery: Commercial vs. recreational conflict
Yellow Perch, Emerald Shiners: Diet change might have led to drop in fish catches
---
Will 2020 continue the amazing hatches?
Eager anglers and scientists will have to wait until at least August before numbers about likely spawning successes or failures, are known. But currently, fisheries biologists estimate there are about 100 million walleye, two years and older, in the entire lake. And next year, estimates place another 50 million entering that category.
Lake Erie walleye will begin their spawning when the water temperatures hit 40 degrees and begin rising. On the two rivers which offer spawning habitat—the Maumee and Sandusky—tens of thousands of anglers will converge over a month-long period in search of the lake's number one sport fish. Most will cast smaller hooks with lead jig-heads and colorful plastic grubs every possible color, including the ever-popular chartreuse.
"There's a lot of great places to catch walleye from shore," Weimer said. "The best times have always been spring and fall, and the rivers are always good in the spring. There are so many fish out there swimming near piers and other typical places."
Weimer said the many public boating and fishing access sites can be excellent fishing spots for walleye – mostly at dusk and at night.
"There can be some hot periods throughout the entire night. People could pick up a limit in an hour then a little later it's dead," he said. "They're definitely adapted to low light levels, and that can include the daytime, when the water is stained or muddy."
On Lake Erie proper, thousands of boating anglers will converge on areas where there is shallower water with submerged structure, such as reefs and shoals, in an effort to catch walleye. On the lake, anglers will drop half-ounce or heavier painted lead jigs with large hairs tied on and tipped with emerald shiners or other minnows and fished by bouncing it around near the bottom.
New walleye spawning grounds appearing
Generally, nearly all Lake Erie walleye visit the waters of the Western Basin to spawn each spring. That includes everything west of Huron, including the Detroit River. Of all those fish, the bulk of them end up on the shallow reefs near the Lake Erie Islands and western Ottawa County. The river-spawning fish attract the most attention come March because that's when they're most visible and easy to access, though by far a smaller population than the lake-spawning fish.
But lately, walleye have been branching out into other areas.
"We've actually seen record-high recruitment in the eastern portion of Lake Erie," said Chuck Murray, a fisheries biologist with the Pennsylvania Fish and Boat Commission. "In our trawls last year, we saw a record high."
Recruitment is the term biologists use to denote the spring-hatched walleye that survive until they reach a size that means they can be caught in trawl nets later in the summer. Murray said that during the last five years, young-of-year walleye have been showing up in their trawl surveys. That was essentially unheard of in years past.
"Of course, it still doesn't reach the population that's basically from the Conneaut River and west. That's still the walleye machine, really. The bulk of them are coming from the walleye management zones in Ohio still."
Murray said PFBC's assessments suggest exponential increases in the lake's eastern waters, with between 1.5 and 2 million walleye surviving in New York, Pennsylvania and Canadian waters.
"It's amazing to see all the young walleye that are being produced over here," he said. "I've been up here 27 years and what we're seeing in the last five is way different than what I saw during my first 22 years. There used to be a time when if we got any young-of-year walleye in our trawls it was a rarity. Now we're catching them regularly."
Weimer said seeing the fish spawn in other areas makes sense.
"We like to look at it like a portfolio," he explained. "We have a variety of spawning sites for walleye, so the more variety of places we have, we can hopefully get some consistency in hatches, which of course, go up and down."
Weimer said intense competition at traditional spawning sites, like the Western Basin rivers and reefs, is likely pushing new fish east.
"The higher population levels are beginning to show strain, and so instead of the usual areas where they compete in a crowded field for a little patch of ground, some are moving to other areas to spawn."
No one remembers better walleye fishing
"We did one drift last year and pulled over 50 fish. And there was no wind – we only drifted like 250 feet," said Tim Carruthers, who operates T & V Charters with his wife and co-captain Vicki out of Ashtabula. "It was sick, it was every single cast. I was actually getting hit in the head with fish by customers. Honestly, it was ridiculous. I told them 'You guys have to stop and take turns or something.'"
Carruthers said the 2019 season was tops.
"I've been doing this 12 years and it's pretty close to the best, if not the best, I've ever seen," he said. "It's fast fishing. I mean, the size of the fish obviously were a little bit on the smaller side because of the big hatch. Our average size now is running between 17 and 22 inches."
With the sheer number of fish in the lake now and more growing into catching size (the minimum fish size for keepers is 15 inches), Carruthers said casting is making a comeback.
"We've been doing a lot more casting instead of trolling," he said. "It's a lot more hands-on and that's what a lot of customers really like and want."
Carruthers follows the walleye throughout the season, beginning with spring spawn fishing in the Western Basin then moving east to the Cleveland and Ashtabula areas later.
Mike Lis, former president of the West Sister Charter Fleet, operates Last Buck Charters and has been in the fishing game for 28 years.
"Last year, business was pretty easy with all the reports and all the positive things in the press. I think people were eager to come up," he said. "Of course, all the smaller fish made it a little exasperating. A lot of the customers would like to keep everything they grab ahold of. The 18- to 24-inchers are the best eaters, though."
Last year the ODNR began issuing a non-resident add-on fee for those fishing Lake Erie in the spring. The additional funds all go toward Lake Erie conservation targets. Lis said his customers don't mind paying the extra $11 bucks.
"Most of my guys don't care, they know how important the lake and its fish are," he said. "The guys are out there right now trolling and they're just killing the fish. It's truly phenomenal out there right now."
Does more fish mean higher limits?
Not necessarily.
Lis said he hears customers and other anglers talking about higher daily limits. Currently Ohio anglers can keep up to six fish per day. The exception is Sandusky Bay and River, which remains at four.
"There's a lot of people who understand fish management and then there's about 70 percent that would like to see the limit raised," he said. "But Ohio tried it once before and shot themselves in the foot. We had a real lean period right after that four or five years with a 10-fish limit. It was pretty exasperating after that and there were some tough years."
Weimer said for now it looks like limits are likely to stay the same. But science could change that in the future.
"We do get questions on the limits. It's going to stay at six. As far as May through the rest of the year, those numbers won't be released until after the Lake Erie Committee meetings when we get our allocation. Then we'll be able to determine what our bag limits will be moving forward into the rest of the year. That'll be announced in early April," Weimer said.
The Lake Erie Committee, comprised of Ontario and the states bordering the lake, sets the total allowable catch each year. That figure is then divided among the stakeholders, who use it to set creel limits and quotas for commercial fishermen.
"The problem we have is we've got a quota we're given which we can't exceed for the number of fish we harvest," Weimer said. "We're more efficient at catching walleye now than we've ever been. In the 1980s we had tremendous fishing and the catch rate was .5 fish per hour. Now it's .8 fish per hour."
According to Weimer, the great fishing will bring more anglers to the lake. Increasing pressure on the population combined with a higher catch rate could bring disaster.
"It could put us up against our TAC if we raise the bag limit, and we really worry we'll exceed our quota and that's a place we just can't be," he said.
More people fishing, more charter captains
Dave Spangler, vice-president of the Lake Erie Charter Boat Association, operates Dr. Bugs out of Oak Harbor. He said that for some years charter operations on the lake were declining.
"We've got more people at it now, some younger folks are getting into it and we're getting some of the folks doing two-man trips in smaller boats," he said. "They can move around ramp to ramp and meet people, chase the walleye."
At one point, there were more than 1,200 charter captains on Lake Erie. Over the last decade or so, that number declined to the low 700s.
"Currently there are 802 Ohio captains on the lake," Spangler said. "So we're starting to see an uptick and that's a great thing."
ODNR records indicate that Ohio license sales are growing, including for out-of-state anglers – mostly seeking walleye. At Ohio boat ramps it's not uncommon to see people from as far away as Minnesota, Iowa, North Dakota, South Dakota and Wisconsin launching.
In 2011, Ohio sold about 92,397 non-resident licenses. Last year that number had risen to about 108,052, an increase of 17 percent.
Some of those anglers are tournament anglers who come to Lake Erie with visions of giant fish.
"In Lake Erie there's always some big ones and there'll be guys finding them," said Anthony Wright, director of Bass Pro Shops/Cabela's National Walley Tour. "These guys are professionals and they'll come to town and stay a couple weeks before the tournament and they always locate those fish."
In 2017 the winning angler kept 10 fish weighing in at 64.65 pounds, launching out of Huron. The No. 1 slot paid $15,000 plus a $46,000 Ranger fishing boat. This year the tour will return May 28 to 29, launching out of Sandusky, with between 100 and140 two-person teams.
"A lot of these pros are living fishing, so they go from tournament to tournament. Throughout the whole field we usually give away between $200,000 and $250,000," Wright said.
Walleye population turns vacant building into fishing mecca
Port Clinton's old Walmart building, vacant for more than a dozen years, has turned all things Lake Erie, with boat storage added a few years and now Fisherman's Central. The new 30,000-square-foot bait, tackle, boat and marine service location is being stocked right now with 70,000-plus angling items for the upcoming season.
"Where our Akron store is geared more toward bass, when people walk in this store they'll see walleye," said owner Dan Blackert. "Our goal is to make this the largest selection of walleye baits that we know of in the state. The world maybe – I don't know."
He said while new baits are always coming out and the old ones fade away, many anglers still pine for the past, and Fisherman's Central will have that. And, he said, they are intent on going heavy on items made in the U.S., especially from Great Lakes states.
"We're slowly building, and with baits and fishermen, things evolve," Blackert said. "I believe this will be a destination for people. We already have customers that come from as far away as North Dakota to visit our Akron store."
Boats already on the lake chasing walleye
Greg Shandler operates First Due Charters out of Marblehead. On March 2 he broke the ice for his first charter of the season. Literally.
Guiding five men from Muncie, Indiana, onto the lake from the Mazurik ramp, he launched his 30-foot aluminum Kingfisher in about 2 inches of ice.
"I started fishing when I was two and I've been a charter captain for 12 years. I love it," he said. "I've caught good fish when I was fun fishing earlier this year and haven't had a throwback yet."
Shandler and his guests returned later in the day with their limit, 36 walleyes.
"It was a little slow at first, but it picked up and we did great, everyone had a great time," he said.
For the latest, full Ohio Fisheries Annual Report 2018 (138 pages) click here.
Anyone who has questions about Ohio fish or wildlife in general can submit a question to wildinfo@dnr.state.oh.us. Emails will be routed to state employees who can answer questions and provide information.