Dearborn-based workwear maker Carhartt in early April tweeted its support for Michigan establishing a Michigan Outdoor Industry Office.
The company tagged Gov. Gretchen Whitmer in the tweet alongside a link to a press release with a longer statement.
A few weeks later, on May 1, the Office of Outdoor Recreation Industry, or OREC, was established by the governor's executive order.
"I think it did have an effect," Brad Garmon, Michigan's OREC director, said of Carhartt's tweet. "And it sort of validates a lot of the underlying notion of these offices. Outdoor industry and businesses have a vested interest in protecting and enhancing and restoring the quality of our public lands and waters. So when they speak up, it resonates in policy circles in a way traditional advocacy wouldn't."
The mission of the office, according to Garmon, is to serve as liaison with industry stakeholders and between different governmental departments while working to boost Michigan's recreation economy and profile.
"It connects with not just protecting fish and butterflies and trout streams and stuff, it's protecting jobs," he said. "And it's building quality of life for people. That's where it connects to the economic needs of Michigan in some really interesting ways."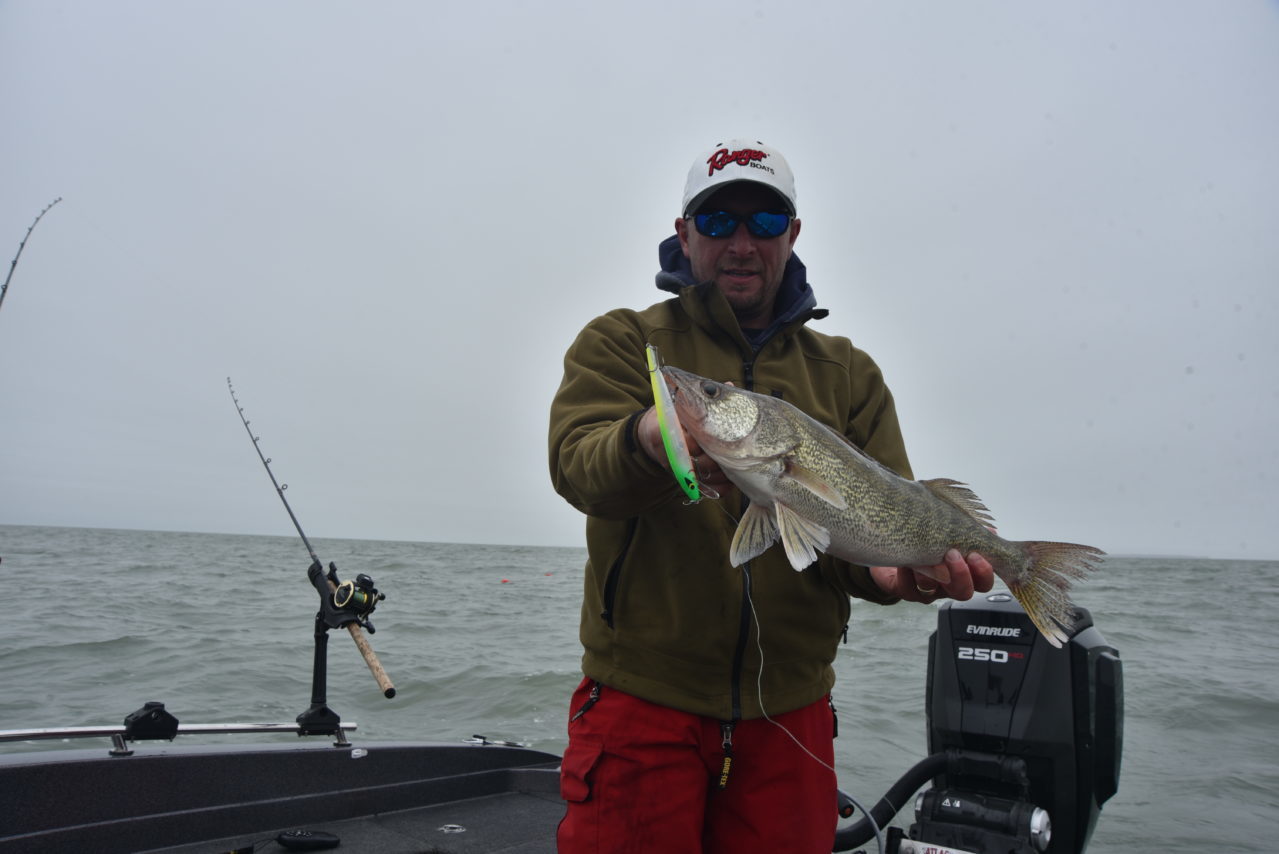 That same idea may prove equally resonant for other Great Lakes states, whose Rust Belt communities have long been dependent on manufacturing jobs, a sector which has been dwindling for years.
ORECs have the power to create opportunities in areas at a high risk of losing jobs, according to Jessica Wahl, executive director of the Outdoor Recreation Roundtable, an umbrella group comprised of numerous industry trade organizations.
New Mexico recently established an OREC, and Wahl pointed to communities where coal-fired plants will be closing as an area the OREC can step in.
"Thousands of jobs in these rural communities, gone in an instant," she said. "And (the OREC director there, Axie Navas,) can as the recreation director look and say 'But they have great recreation assets, there's great trails. How do we invigorate that economy at the same time that another economy is going away?' We're not the reason an economy is going away, but we can go in and supplement some of the economic activity that will no longer be there."
The outdoor recreation sector's rapid growth makes it a prime industry for the Great Lakes region. According to a 2017 study by the U.S. Bureau for Economic Analysis, the industry grew faster than the general economy, expanding at a rate of 3.9 percent (compared to the general 2.4 percent growth rate) while accounting for 2.2 percent of national GDP at $778 billion.
According to the same study, boating and fishing accounted for $5.356 billion in the Great Lakes region alone. Great Lakes national parks like Indiana Dunes and Cuyahoga Valley also provided a major boost to the region's tourism industry, representing over 4 million visits combined as of last year, according to figures from the National Park Service.
"The Great Lakes are to me the hallmark and the calling card of Michigan's outdoor recreation lifestyle," Garmon said. "And they're going to be what sort of puts us and keeps us at sort of a high level on the national scene. In ways that Colorado has its 14,000-foot mountains and Utah has its canyonlands, we have the Great Lakes. So in a lot of ways I think that's part of the mission of the office. As we grow the industry in Michigan and other Great Lakes states do the same, we'll be elevating Michigan and the Great Lakes on that national scene."
Wahl described the ability of the offices to communicate across departments as another asset in promoting industry growth.
"A lot of states don't have a Division of Outdoor Recreation, certainly not at the cabinet level," she said. "They'll have a state parks division, fish and game, labor, commerce. The idea here is that someone's cracking all these silos and saying 'You know, outdoor recreation certainly has a DNR component but there's the job side, there's the business side, there's the transportation side, there's a health and wellness side.' So if someone's not looking across all those sectors and seeing how they can all come together to either improve those sectors or to grow the recreation economy or to grow other parts of the economy, then I think we're missing a lot of opportunity."
Ten years in the making
Though the name in each state varies, the first OREC was Utah's in 2011.
The roughly decade-old movement to establish an Office of Outdoor Recreation in various states across the country has been gaining ground in recent years, with Michigan and New Mexico as just two examples of states to recently create such offices.
So far, Michigan and Wisconsin are the only Great Lakes states with an OREC, though Indiana is working to create one and Minnesota is currently processing applications for an Outdoor Recreation Advisory Task Force, similar to the advisory council Michigan established in 2018.
The movement's been spurred on by the Outdoor Industry Association, a nonprofit trade organization of industry players, of which Carhartt is a member. The OIA is also a member organization of the Outdoor Recreation Roundtable.
The drive to create ORECs has been encouraged further by the Outdoor Recreation Industry Confluence of States, which established a cross-state coalition committing to specific recreation priorities and requiring the offices for its members.
Per the confluence, every OREC must be seated within its state's executive branch, with leaders who have timely access to their governors—simply having a Division of Outdoor Recreation, as Indiana long has, is not enough to be admitted.
"What we liked about this office is there's a complete day-to-day dedication to outdoor recreation," said David Weinstein, the western conservation finance director at the Trust for Public Land, recalling his previous work as the state and local policy advisor at the OIA.
Stakeholders, he said, appreciate having a consistent voice and source of expertise within state government.
Along with requiring an OREC for member states, the confluence mandates adherence to four loose, policy-based "pillars" outlined within its text: Conservation & Stewardship, Education & Workforce Training, Economic Development and Health & Public Wellness. The terms of the agreement are broad and feature no statistical markers.
"Kind of the goal is to wrap their arms around all the aspects that outdoor recreation can touch," Weinstein said. "If there are elected officials or any stakeholders that might care less about conservation than they did about economic development or vice versa, the confluence accords are so broad that you can say 'Okay, we're gonna sign onto these things because they encompass just about everything and then we are gonna create the office that makes the most sense for our state.'"
Randolph Briley, deputy director of the Minnesota DNR, described the evolution of ORECs in other states informing discussions among his Recreation Task Force, whether the group recommends establishing an OREC or not.
"As they've developed over the past decade, (ORECs) have made a clear transition from just being focused on (outdoor) activities and have broadened out to be more holistic," Briley said. "As far as how outdoor recreation affects health and well-being, how it impacts local community prosperity and economics, those dynamics, I think, will be a part of the conversation we're gonna have over the next eight months."
Each office won't be the same
The structure of each OREC varies from state to state, tailored to the priorities and existing framework of each state's government and recreation sector.
Some, like Michigan's, operate chiefly under the state Department of Natural Resources. Others, like Wisconsin's, have been positioned under the Department of Tourism or framed chiefly as drivers of economic development.
The structural variation in each office is something Jeanette Stawski, executive director of the Organization for Outdoor Recreation and Education, a member of the OIA, considers natural.
"Each of those state-based entities are not going to be the same," she said. "Obviously things that are the driver for the Midwest states, things like water resources here in Michigan or maybe in Indiana where they produce a lot of RVs, recreation there is going to be different from fly fishing or downhill skiing in areas out west in the mountain regions. So I think each office is going to be relevant to the needs of that state."
When asked about the potential friction between environmental protection and certain outdoor industries like the RV one, Stawski remained optimistic while acknowledging that each state would have its own "internal battle" on matters like conservation, access and fees, and called the negotiation "a different construct, but analogous to being vegetarian or vegan," citing the frequent question: "You wear leather shoes, right?"
Sustainability, diversity
Despite environmental stewardship as well as health and public wellness being listed among the confluence's pillars, the agreement does not address more controversial issues such as climate change, fracking, emissions or mineral extraction on its website or in any of its accompanying documents, leaving negotiations of those issues to member states and industry stakeholders.
The potential negative environmental impacts of tourism and outdoor industry aren't featured in the confluence either, placing the onus on members of the industry to adopt sustainable practices.
"The industry itself is moving in the direction of sustainability," Garmon said. "Certainly, if you're making products, there's going to be industrial operations."
Citing Patagonia as an example, he pointed to the industry's attention to and ability to lead on sustainability, calling it "a hot topic within the industry."
"Climate change, water quality, these are all things that the industry itself recognizes, that it has to be addressed, if there's going to be an outdoor recreation industry," Garmon said.
Wahl cites ORECs and the confluence as likely to help both industry and states in "working through" these potential tensions.
"I think the outcome of a recreation economy usually is a really healthy environment," she said. "Without conservation, obviously we don't have an industry if there's not places to play. So of all of the industries I'd say ours is usually the most in tune with that, leaving it better, making sure it's sustainable. Do all the user groups and user communities respect that every day? No. But I think from a business community perspective there's a huge sustainability lens, a huge focus on conservation and outdoor ethics."
Both the Sierra Club and the World Wildlife Fund were reached for comment on the confluence and ORECs more broadly. The WWF said it had no one looking at the issue of ORECs from an organization-wide standpoint and the Sierra Club declined to comment for the time being.
Though no organizational stance was given by the Sierra Club, Garrett Dempsey, the program director of their Detroit Outdoors program, said that his conversations with other staffers signaled broad support for ORECs among individuals in the organization.
"I know from working with other staff," he said, "that the Sierra Club looks at these outdoor offices as a crucial step in supporting the outdoor recreation economy and very much in line with what we're trying to do, which is increase access for all people to the outdoors."
Recent trends in the industry seem to increasingly reflect progressive priorities, some encompassed within the confluence itself. The OIA abides by a set of self-imposed sustainability standards for apparel and footwear production known as the Higg Index, developed by an industry group called the Sustainable Apparel Coalition. The OIA also announced at January's Outdoor Retailer convention a set of new efforts to tackle recurring issues around lagging diversity and equity in the industry and its own contributions to climate change, alongside new partnerships to promote outdoor industry education.
While noting the lack of equity and inclusion as pillars within the confluence, Weinstein described the TPL as having "no official stance" on ORECs or the confluence and their support as essentially conditional on alignment with their goals.
"Our mission is to create parks and protect land for people," he said. "So insofar as the confluence accords and then each individual office is working on any kind of policy initiative, or creating attention or funding toward issues that address equity, climate, health and just getting people outdoors or within ten minutes of green space or parks or gardens, we're always supportive of those efforts."
Garmon said he's invested in "making sure that Michigan's outdoor recreation is more welcoming to all types of folks."
"Thinking of diversity, equity and inclusion are always at the forefront of my mind," he said. "So building up in Detroit, building up in Flint and Saginaw, really investing in the opportunities for people in our cities regardless of color, race, religion, whatever else, making sure they not only have access to those places, that they feel welcome to come there. Whether they have a $100 bicycle or a $5,000 bicycle, making sure it's a welcoming family, I think that's one of my missions too."
Part of that effort involves changing the dialogue around what counts as recreation to many.
"I feel like the offices have an opportunity to think about where their constituents could recreate, and how they can recreate and also a redefining of what recreation is," said Stawski. "Recreation doesn't have to be beautiful, really fit people on the top of Everest. It can be paddling down the Chicago River or hiking on an urban green trail. I think it allows the industry to recreate that dialogue and make it more inclusive for everyone to experience."
Wahl didn't deny that there are tensions or obstacles.
"There's always going to be these on-the-ground tensions whether it's trail head access, who gets to use it, or if it's the conservation community not wanting some type of recreation infrastructure," she said. "But I think even the conservation community at large is understanding the more people who get outside, the more followers they will have in the future, the more conservationists there will be in the future."
Featured Image: Shedd Aquarium Kayak for Conservation, Photo by Lorraine Boissoneault
More stories about outdoor recreation from Great Lakes Now: