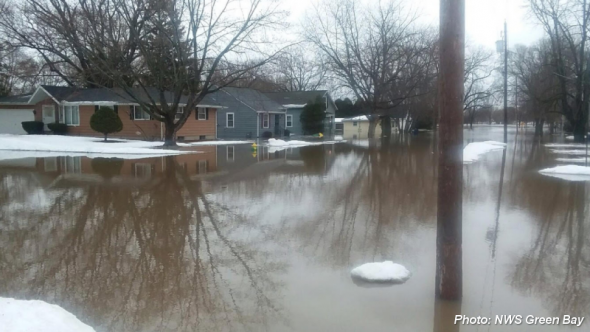 By Rob Mentzer, Wisconsin Public Radio
A new position in Green Bay would aim to help the city deal with the effects of climate change.
Mayor Eric Genrich in his proposed budget for 2020 would create a city resilience coordinator. The position would focus on the creation of green infrastructure as a part of the city's efforts to reduce or mitigate flooding.
The seriousness of flooding as a threat to the city was brought home to Genrich shortly before he was sworn in as mayor. In March, more than 100 people were displaced from their homes and millions in property damage was reported when the city's East River flooded into residential areas.
Read the rest of Wisconsin Public Radio's piece or listen to it here.
This article is partially republished on Great Lakes Now with permission from Wisconsin Public Radio.
Featured image: Green Bay's East River flooded a residential area on March 15, 2019. Photo courtesy of the National Weather Service Green Bay through Wisconsin Public Radio.