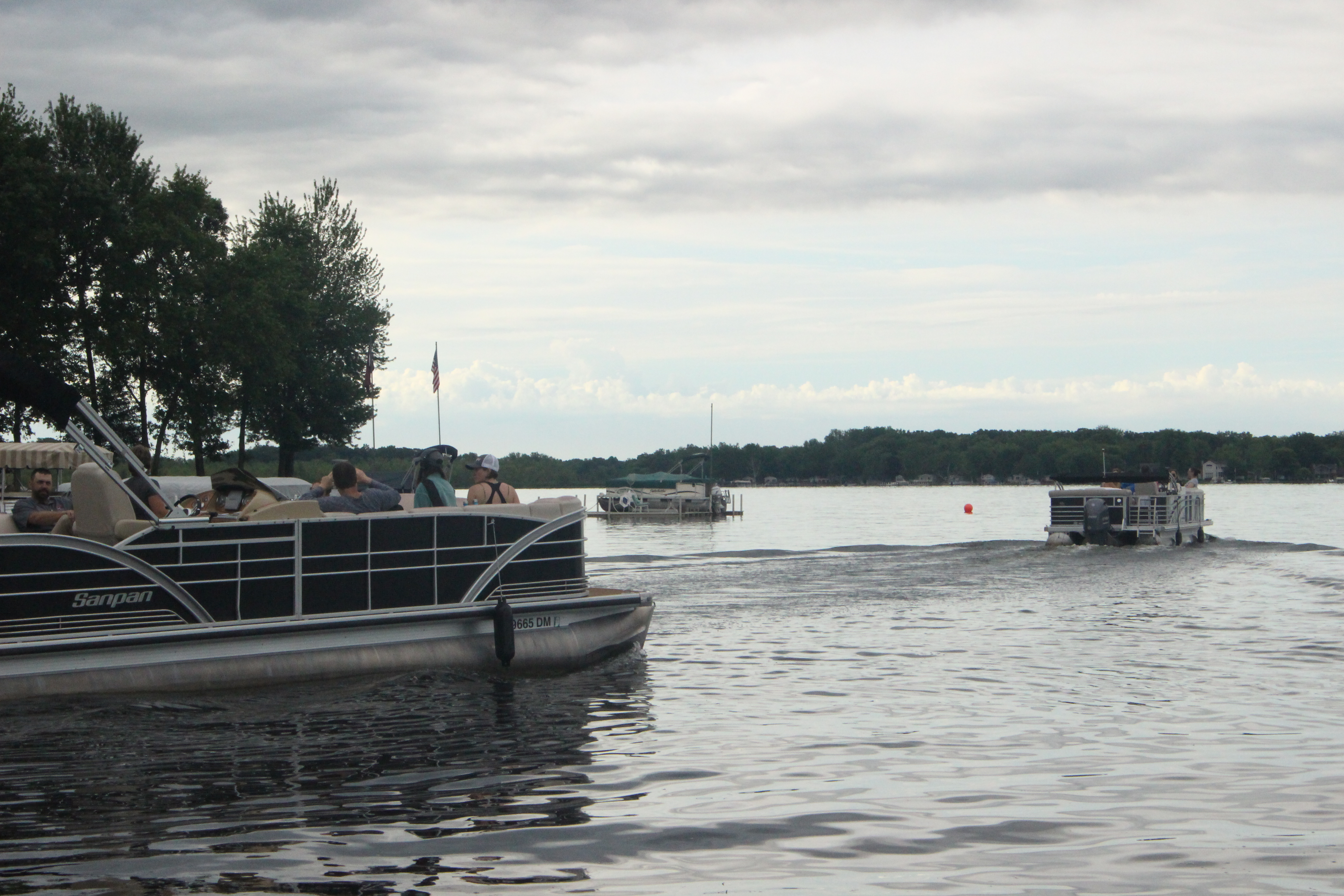 No daily deadlines. Plenty of time to ask questions. And a little bit of kayaking and fishing.
During the last week of June, I was part of a group of journalists from around the region who traveled with the Institute for Journalism and Natural Resources  through Ohio, Michigan and Indiana. We talked with communities and experts on water quality issues in the Great Lakes region.
Ultimately, this fellowship will make my work as news director of Great Lakes Now that much better, starting with this series of snapshots where I'll introduce you to some of the people we met who are working on and particularly affected by some of the biggest water quality issues. They'll tell you why their work and experiences matter to all of us in the Great Lakes region and beyond, and I'll help you learn more.
Where We Were: Tippecanoe Lake, Indiana
The Issue: Sewer infrastructure in rural communities
The Overview and What You Need to Know:
Tippecanoe Lake is about 800 acres of rural lake community in northern Indiana, surrounded by not quite 2,000 residences.
It's beautiful, and year-round and seasonal residents alike enjoy its waters for boating, jet skiing and fishing.
But the lake community also is struggling with the need for a revamped sewer system, a problem "not unique" to Tippecanoe Lake, said Alice Quinn, senior environmental manager at the Indiana State Department of Health.
The residences there have operated on individual septic systems for decades, but improper maintenance and insufficient space for expansion put Tippecanoe Lake at risk for contamination. Sewage leaking into the lake can result in a variety of environmental concerns, such as harmful algal blooms, illnesses in the people using the lakes, a drop in water quality and more.
"The typical homeowner in the state of Indiana assumes because the waste is not seen on the top of the ground it's not an issue," Quinn said.
Currently, the community is in the process of establishing a regional sewer district, but the costs of making that change are causing some residents to balk.
For some of the "mom-and-pop cottages that have been in families for many, many years," paying to remove their septic tank and connect to the sewer system feels "cost prohibitive," said Sue Ann Mitchell, Kosciusko County council member. Tippecanoe Lake is in Kosciusko County.
"Most of the million-dollar people are on board," Mitchell said. "The people that aren't on board are the smaller places that are much less in value, and it's a financial impact."
Mitchell estimated that the cost to connect a residence to the sewer system would be around $3,000, though it depends on the location and size of the property. The monthly bill would be about $70.
Another deterrent for people is that residences will be billed 12 months a year for the sewer system. In a community where about 75 percent of residents are seasonal, it's an unappealing idea.
So what are the options for people who can't afford to convert their sewer systems?
"There are several programs that are available to help those with low income," Mitchell said in response. The county is looking at possible grants through the USDA Office of Rural Development and the Indiana Community Housing Development Authority.
"I think when they get down to it and get to the bottom of it, it's not something that is not doable," Mitchell said.
And for anyone that fails to connect to the sewer system by the time it is completed, "astronomical" penalty fees can start to rack up, Mitchell added.
The current goal for the project is to be completed by 2021.
None of Tippecanoe Lake's lower-income residents were at the meeting at Tippecanoe Lake Country Club arranged for the IJNR journalists.
More Great Lakes Now News and Information on this Topic:
Milwaukee sewage exec has an "audacious" goal to protect Lake Michigan