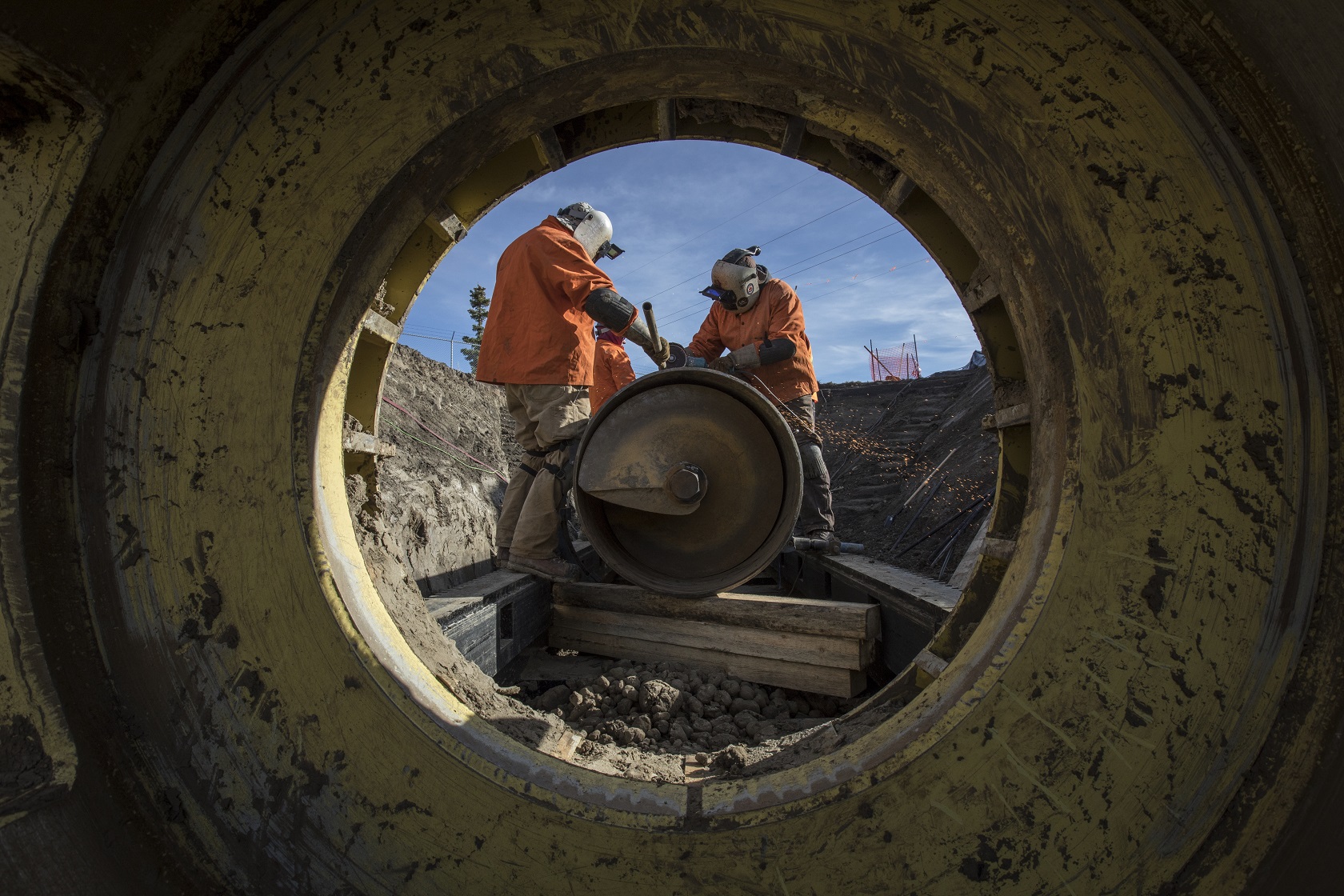 Michigan, Minnesota grapple with energy needs and environmental protection
Enbridge Energy's Line 5 pipeline has been a contentious issue in Michigan, but another Great Lakes state also has issues with the Canadian company.
A new governor in Minnesota is grappling with pipeline decisions made by a previous administration, and the eventual outcome of the debate will impact energy transport and, potentially, the regional environment for decades.
Enbridge's Line 3 pipeline was constructed in 1968. It transports Canadian crude oil through Minnesota to Superior, Wisconsin. A plan to replace it was approved by the Public Utilities Commission whose members were appointed by former Democratic Gov. Mark Dayton.
The Minnesota arguments for and against the new pipeline are similar to Michigan's.
Proponents say act now to replace an aged pipeline for safety reasons and that pipeline oil transport is safer than rail. Opponents say a new pipeline will lock the state into continued use of fossil fuels for longer than is necessary further contributing to climate change.
Current Democratic Gov. Tim Walz's administration is challenging the approval of the new pipeline, leading Enbridge to announce a delay in its construction.
A Minnesota court had dismissed an original appeal of the decision by the Walz administration but the process allows for another appeal which was filed at the beginning of April.
"Replacement of the pipe has become entangled in a bureaucratic, environmental quagmire," Minneapolis Star Tribune editors recently wrote in an opinion supporting construction of the new pipeline.
Michigan's lame duck Line 5 law
In Michigan, new Democratic Gov. Gretchen Whitmer campaigned in 2018 on taking "necessary steps to remove dangerous oil pipelines from the Great Lakes and protect our water and protect Michigan jobs."
It was a clear reference to the aged Enbridge Line 5 pipeline that traverses Michigan's iconic Straits of Mackinac, where a pipeline leak could be an environmental and economic disaster.
Upon taking office, Whitmer asked new Attorney General Dana Nessel for an opinion on the legality of the law that authorized replacing the existing Line 5 pipeline with a pipeline in a tunnel under the straits.
The law was enacted in a lame duck legislative session and signed by outgoing Gov. Rick Snyder days before he left office. Snyder defended the timing of law's passage, telling Great Lakes Now in an exit interview that it took years to adequately study the Line 5 issue.
The tunnel plan was intended as a compromise that would minimize the risk of a catastrophic spill while still supplying energy needs. It was supported by the Republican majority in the legislature and backed by labor unions who relished the construction jobs in an area of Michigan that could use economic development.
On the other side, environmental activists like the National Wildlife Federation railed against the new law, calling it the product of a "backroom deal" that "ignores safer and cost-effective alternatives for Michigan's energy needs."
Tunnel plan "unconstitutional"
Attorney General Nessel's opinion came at the end of March and said the law that enabled the tunnel plan was "unconstitutional" and that any action taken to date under the law was "void."
An attorney general's legal opinion carries the weight of law for state agencies that are charged to enact its provisions. But the opinion has no impact on courts that may end up hearing a case on the issue.
As a candidate, Nessel campaigned in the 2018 election on shutting down Line 5.
Whitmer ordered all work on the Line 5 replacement stopped in response.
Environmental groups immediately called for the governor to begin the process of shutting down the existing Line 5 pipeline.
Enbridge reacted cautiously saying it would seek clarification from the Whitmer administration and looked forward to ongoing dialogue.
Michigan receptive to replacement pipeline
Polling in Michigan has shown that, while people are concerned about the safety of the existing Line 5, they're receptive to a replacement.
Polls conducted by Michigan State University revealed that 25 percent of respondents think Line 5 should be shut down and not replaced, while only 14 percent said "it should be left in place."
But 52 percent of respondents said "Line 5 should be shut down and replaced," which is what the law passed by the Snyder administration would do.
Various media outlets have reported that Whitmer is now in discussions with Enbridge that could allow a pipeline in a tunnel plan to go forward.
"Discussions with Enbridge and stakeholders are ongoing, and those discussions will help advise the Governor on the next steps moving forward," Whitmer spokesperson Tiffany Brown told Great Lakes Now.
"If an acceptable agreement cannot be reached the Governor also will not hesitate to use all available means to stop the pipeline through the Straits and protect our Great Lakes, Brown said.
AG Nessel, reacting to Whitmer's discussions with Enbridge, said in a statement on April 29, "I respect the Governor's effort to find a swift and straightforward resolution to this issue, but if unsuccessful I will use every resource available to our office to shut down Line 5 to protect our Great Lakes."
Nessel would like to have discussions concluded by June 1, spokesperson Kelly Rossman-McKinney told Great Lakes Now.
Separate pipeline evaluations
In Michigan, a veteran environmental executive is concerned about the current process and the tunnel.
"The aged pipeline and a proposed tunnel need to be evaluated separately," Lana Pollack told Great Lakes Now. Pollack is a former state senator and long-time regional environmental executive.
On the pipeline in a tunnel, Pollack said "it's a mistake to support any capital intensive project that will drive decades of supply side demand for carbon based fuel use, as Michigan is already facing the increasing ravages of climate change."
Whitmer's office declined to speculate on the possibility of legal action by Michigan or next steps if discussions with Enbridge don't produce an agreement.
"The ongoing discussions will inform next steps," Whitmer spokesperson Brown told Great Lakes Now.
Featured Image: Line 3 Construction, Photo courtesy of enbridge.com