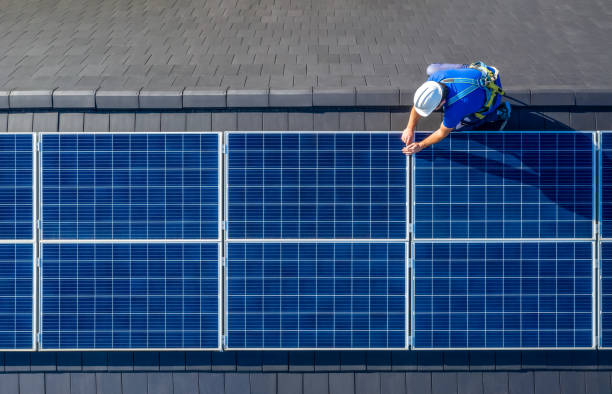 Quite a few bills are going through Michigan Legislature that are poised to radically reshape the state's approach to energy. These proposed legislations signal Michigan's commitment to the climate crisis, and could set the stage for a significant shift in the state's environmental policies. The House introduced bills that environmentalists are keeping their eyes on, many of which would solidify elements of Governor Gretchen Whitmer's MI Healthy Climate Plan into law.
According to environmental policy expert and the director of University of Michigan's Sustainable Climate Action Engagement Liesl Clark, many of these bills could be voted on "any day now." On October 18, members of the House Energy, Communications and Technology Committee voted to refer and passed bills that will move wind and solar permitting from the local level to the state level. The package passed in a vote of 9 to 7, split along party lines. The state oversight is due to the fact that there are 26 localities in the state with policies that either block or restrict renewable energy development, as reported by the Michigan Advance.
"The way that we're running our grid right now, our grid is out of date, we're really running a VHS grid, and it should be like Netflix," said Clark. "The grid in the past has been really big energy generation sources: big coal plants, big natural gas plants, big nuclear plants. And it looks kind of like I-75 going up the middle of the state. The grid of the future is going to look much different. It's going to be smarter, but it's also going to have more resources connecting into it in different places. That will make it more resilient. It will also make it so people aren't experiencing as many outages as they are right now."
Clark went on to explain how the more spread out the grid is, with varied kinds of energy sources, this could help to prevent outages. This is because there will be multiple power sources and the grid will become more hyper-localized, for example, if wind goes down, there is solar or other options to pick up the slack. The localization part is important because the shape of Michigan provides some interesting infrastructure and design dilemmas as a two-peninsula state.
"I think our Great Lakes are what define us and what make us beautiful, but they do impact how our energy system is structured," said Clark. "We can't just drop a transmission line easily across Lake Michigan. So, we have to be thoughtful about how are we going to do this type of development and enabling more resources."
Power outages and hiking rates are not the only concern residents have in the state. According to Clark, some areas of the upper peninsula have the third highest electricity costs in the country. Spreading out the grid so that the energy could become more diverse and localized, would inevitably reduce those rates in more remote parts of Michigan.
Some of the bills to keep an eye out for are: House Bills 4759, 4760 and 4761. Bill 4760 would consider climate issues like extreme weather when regulating Michigan's utilities. It would require the Michigan Public Service Commission to hold meetings with affected communities, where listening sessions would aid in the decision-making process.  Additionally, the Clean Energy Jobs Act or Bills 5120-5123, and the Clean Energy Future Plan or Senate Bills 271-277 are also progressive legislation that could put Michigan on track to being climate resilient while using one hundred percent renewable or nuclear energy by 2035.
---
Catch more news at Great Lakes Now: 
'Solar grazing' is a way for farmers and solar companies to use land. But there are challenges
U.S. Pushes Farmers to Develop A New Crop: Energy
---
Featured image: Professional electrician mounting solar module on roof. (Photo via Getty's creative commons)