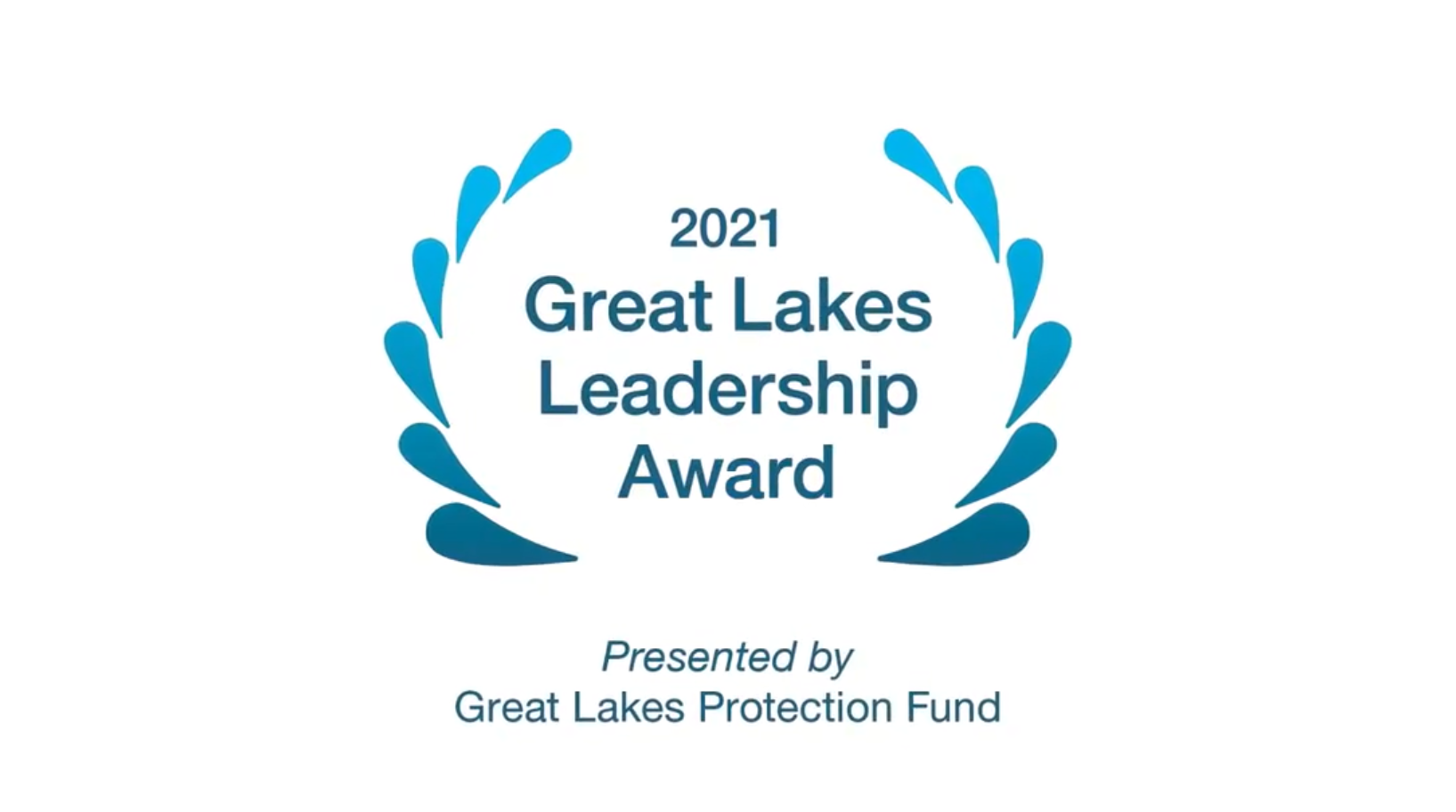 Their daily work aims at reducing microplastics and invasive species in the Great Lakes, increasing attention to equity in the region's environmentalism, helping communities finance water infrastructure, and better connecting foundations in coastline cities.
For this, six individuals from around the Great Lakes region earned a 2021 leadership award from the Great Lakes Protection Fund.
"Each of the 2021 Great Lakes Leadership Award winners pioneered an innovative approach to blunting a major threat to the health of our Great Lakes," David Rankin, executive director of the Great Lakes Protection Fund, said in a press release. "By recognizing the achievements of these trailblazers, we hope to encourage others who are working to solve complex challenges in the Great Lakes to think big and take risks."
Each year, the Great Lakes Protection Fund celebrates leaders in various fields who have all done work contributing to the betterment of the Great Lakes.
Last year, Great Lakes Now was one of the winners.
This year's batch of winners was announced Tuesday, with the theme of driving change to improve the health of the Great Lakes. Some of the awardees have worked with Great Lakes Now, and all of them have done work relevant to our coverage.
Sherri Mason, a researcher studying microplastics, has led efforts to reduce microplastic pollution.
Learn more about her work in this Great Lakes Now segment on microplastics:
API key not valid. Please pass a valid API key.
Allegra Cangelosi has reduced the introduction of new invasive species into the Great Lakes through ballast treatment technology.
David Lodge, the "CSI Great Lakes Guy," developed genetic testing and forensic tools to prevent the spread of invasive species in the Great Lakes.
Read more about invasive species on Great Lakes Now:
Canada expands ballast water restrictions to reduce invasive species spread
Invasive Tracking: Researchers trying to trace zebra mussel infestations
Early Detection: When it comes to Great Lakes invasives, prevention is the only cure
Rob Collier created the first-ever network of community foundation environmental programs in Great Lakes coastal cities.
More on community needs and growth on Great Lakes Now:
Investing in the Lakes: New bill could redirect tech money to neglected Great Lakes cities
Coastal Concerns: Communities lack skilled staff and funding to tackle erosion and flooding
Report: Great Lakes region needs about $2B for flood repairs
Crystal M.C. Davis has worked to make Great Lakes environmentalism more fair and equitable with a focus on issues like access to clean drinking water and decontamination of the waterways.
Catch up on Great Lakes Now coverage of water access and equity issues:
Water Access: As moratoria on shutoffs end, old problems return to the forefront
In Chicago, Flooding Overwhelmingly Strikes Communities of Color
API key not valid. Please pass a valid API key.
Eric Letsinger developed new ways for Great Lakes communities to finance green infrastructure and improve water quality.
Learn more about green infrastructure in Great Lakes cities on Great Lakes Now:
Green Infrastructure: Cities around the Great Lakes plan for a changing future
Some cities are turning to natural infrastructure to deal with extreme rain events
API key not valid. Please pass a valid API key.
Go to the Great Lakes Protection Fund's website to learn more about the award and what the fund does.
---
Catch more news on Great Lakes Now:
Tips, Tricks, Recipes: Want to know how to eat Great Lakes fish?
I Speak for the Fish: No petting for these cats
Q&A: Climate, equity and diversity top priorities for new national non-profit executive