Explains controversial Line 5 tunnel proposal, Nestle decision and importance of Great Lakes leadership
In a private interview with Detroit Public Television's Great Lakes Now, outgoing Michigan Gov. Rick Snyder said he is proud of his Great Lakes accomplishments during his eight-year tenure as governor.
An edited transcript of the interview is BELOW.
The term-limited Snyder talked with GLN Senior Correspondent Gary Wilson last week in his Lansing office where they discussed the Line 5 pipeline decision, the controversial Nestle bottled water issue, Asian carp and more.
The backdrop of the interview was the Michigan Legislature meeting in lame-duck session where it would approve Snyder's controversial Line 5 plan and was considering a bill that would roll back protections for Michigan's treasured wetlands.
Chanting protestors filled the corridors of the Capitol Building as the legislature was in session, making their case against last-minute legislation.
Snyder talked about:
His role in rallying what had been a dormant group of Great Lakes governors
Why the Line 5 process took so long
The reasoning behind granting Nestle a permit to increase its pumping for bottled water against the public comments of 80,000 concerned citizens.
His role in keeping Asian carp out of the Great Lakes.
Snyder said he kept the promise he made in his 2011 State of the State address to set goals and report back to the people on how he did.
He offered advice to his replacement, Gov.-elect Gretchen Whitmer, on the importance of Great Lakes leadership and declined to speculate on his future except to say that would be up to his wife, Sue.
Watch Gov. Snyder answer Great Lakes Now questions in these videos:
Here's the edited interview transcript: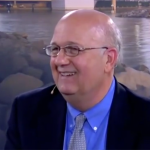 Gary Wilson: The question of what to do with the aged Enbridge Line 5 pipeline in the Straits; that's been brewing since 2013. Isn't this something that should have been resolved before we got to a lame-duck session?
Rick Snyder:  It would have been nice but not necessarily. What I would say is this isn't just a flash in the pan that just appeared suddenly. This has been about a focused effort in a very thoughtful fashion since 2014. In 2014 I actually started the Pipeline Task Force.
Click HERE for the task force report.
The Pipeline Task Force led to the Pipeline Commission. That led to scientific studies being done. That led to reports on what could, should happen next. That led to agreements being done with Enbridge. That led to the negotiations. That led to this legislation.
Click HERE to see the legislation's record in the Michigan Legislature.
So what I would say is this has been a very conscious concerted effort based on science, based on good information to say, "How can we best address something that needs to be addressed?" and it's taken four years. And sometimes people say, "Well why don't you just leave it?" It's like well, I've been working on this for four years. I have the institutional knowledge and the team that knows all this.  Actually, I don't think it be right to simply say, "Hey I could wrap this up and I'm going to toss the ball to somebody else when they can focus in on new issues and hopefully we can have a good result in place."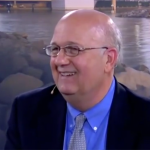 You've had an advisory panel that's helped you on this. They haven't always seen eye-to-eye with you. What's your advice to them? What do you say to them about this decision?
Click HERE to see the Michigan Petroleum Pipeline Board.
Well again I think it's an informed decision and I appreciate the comment about getting different advice from some of the members. I actually don't discourage that. I mean. Good advice is based on having people bring different perspectives, different ideas. You don't go pick people that just say yes to everything but we want to hear. It's best to get thoughtful things that causes a better outcome to have and that actually gives me more informed decision.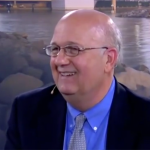 Another big issue in Michigan is the bottled-water issue. It's been a lightning-rod issue in Michigan for years. Your administration's decision earlier this year to grant Nestle a permit with Michigan's Department of Environmental Quality to increase pumping of groundwater was met with overwhelming public response against the decision. What do you say to those 80,000-plus people who felt that maybe the DEQ made a decision that protected corporate interests over the interest of the people of Michigan and Michigan's precious groundwater?
I think it's important that we follow the law. If you stop them look at it, there are actually much bigger water users than Nestle in the state. What drew their attention, I believe, is because it goes in bottles and could get shipped different places. But there are bigger water users. The real question, the way our structure set up in a state our law, is to say, "Are you negatively impacting the aquifer that could have negative consequences on other water users?" Again based on science that wasn't the case, that Nestle's withdrawals were never going to negatively impact in a material way other people other users of water in that aquifer. So it was really a case of, again, I'm the executive I'm supposed to administer the laws. I'm not supposed to make up my own laws. If there is a question – and I think there is a fair question people could ask – it should go back through the legislative process and go to the governor as a new bill. But we were following the law. In fact, if you look, we put many enhanced mechanisms not just to say when the permit was issued, but there are ongoing requirements to make sure that it is not causing harm. And if there's harm caused, that basically, it requires them to scale back their withdrawals.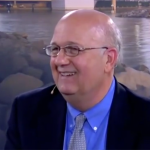 Since we're in the lame-duck session there's another piece of lame-duck legislation that's probably headed to your desk, I believe it's in the House right now and that's Senator Casperson's bill that would essentially exempt 70,000 wetlands from regulation. And he's promoting this legislation under the guise of protecting property rights. CMS Wetland Expert, Don W, who manages a huge wetland portfolio, has said, and I'm quoting, that if that bill is enacted it would be devastating to Michigan's wetlands. Will you sign that bill?
Well Gary you're not going to like my answer this question because I'm not going to tell you whether I'm going to sign it or not. I've had a consistent policy since I became governor is until I get to the point I'm making a decision and seeing a final bill, I view it as a hypothetical. So I will seriously consider it. I am happy to get input from people that are experts and I do take that seriously. Ultimately I have to make a call what's in the best interest of the people in Michigan.
Click HERE for Great Lakes Now's reporting on that bill.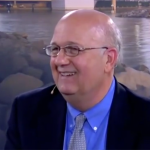 The federal government, through the Great Lake Restoration Initiative, which I suspect you have some familiarity with, Jon Allan has done a lot of work with that legislation, they've invested $150 million since 2010 in wetland protection. And it just appears that if the Casperson bill and a lot of that money is invested in Michigan. If the Casperson bill passed, that seems to be at cross purposes with what the federal government is trying to do. How do you reconcile that?
Again I'm going to really review the bill. As a practical matter, I'm proud of what we've done. I think we've done some good things on wetlands. I think the DNR is doing some interesting things now about looking at wetland banking procedures to actually encourage more wetland creation. I've actually gone out and helped plant trees to help grouse hunting, to actually use wetlands more effectively and in a symbiotic way. How do we protect them? Enjoy them?  So I think there's a lot of good things that we have done.
And again I will carefully review that bill when it comes to my desk, if it comes to my desk.  This is the thing: there's lots of bills that start the process. Ultimately I have to make the calls once they arrive.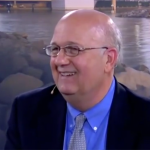 Asian carp. You've worked diligently trying to rally your colleagues, other governors on this issue, and this issue has been brewing since even before you were the governor, approximately 2009. You put together some creative financing to help Illinois, but things seem stalled. Illinois hasn't done anything Gov. (Bruce) Rauner is about to leave office. The U.S. Army Corps of Engineers has a new plan that's triple the original cost. How does this resolve?
I think we should stay focused on Michigan being a leader. I continue to work hard to partner with Illinois. There is a new governor coming in. I think we need to carefully review with the Corps came up with. But we need to do something about the Asian carp problem, and I think we've been a thought leader and a leader in action here in Michigan for the Great Lakes states. I would encourage the governor-elect to keep it up. I would encourage the legislature to support that effort. The good part is this is a case where the legislature has been supportive when I've asked to reserve money to go do something in another state. If you think about it, Michiganders are passionate about protecting the Great Lakes, and this Asian-carp illustration is a great way to do that, to show our leadership. We did the Carp Challenge to say, "Are there innovative ways to help address this? That could make Brandon Road Lock better, other practices?"
We've actually done exercises with other states and provinces, with Ontario, on how to respond and deal with some of these things. So Asian carp is a big issue but all invasives. So I'm happy to talk about carp but let's not forget there are other invasives. We need to be more aggressive in defending our lakes.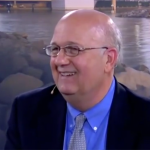 You have been in leadership roles with the other governors, and that's on a rotating basis, but even when you're not the executive leading the other governors, as I have observed leading, Michigan is always looked to as the de facto leader. You will be succeeded in a short period of time by Governor-elect Whitmer. What's your advice to her on that leadership role in the Great Lakes region?
Keep it up. In 2012, the opportunity came so I've been chair of the Council or the Conference from 2012 through 2018 so that's a pretty good tenure, and we've done multiple events, and I have encouraged Gov.-elect (Whitmer) to be active and involved and learn and look to leadership eventually because one of the things, when we were doing the Brandon Road Lock, and we said could we get Great Lake states to work with us?" We got Wisconsin, we got Ohio, we got Ontario to join us in terms of helping allocate costs. But when you do the allocation of the surface area of the Great Lakes, we have over 40 percent. I'm very proud of a T-shirt and that I like to remind the other Great Lakes governors about. I didn't come up with the phrase but I love this T-shirt. It says  "Four out of the five Great Lakes prefer Michigan."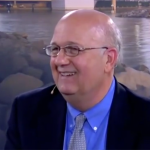 I went back to your 2011 State of the State address, it's available online, anybody can look at it and see what you said. You talked about the reluctance of elected officials to hold themselves accountable publicly, to set goals and measure that progress against those goals and then go back and tell the voters how they did. I don't have a grade for you, I want you to grade yourself on Great Lakes issues and water issues.
I'd give myself a good grade. I don't do letter grades, but I would say a strong performance there. Again, we just talked about, how many? Seven years of leadership for the entire Great Lakes in terms of governors and premiers in addition to taking constructive at Brandon Road, what we've done with the algae bloom in Lake Erie, what we've done with the MAEAP (Michigan Agricultural Environmental Assurance Program) program through our farms. We have nearly 5,000 farms have gotten MAEAP certified since I've become governor. That's a huge step forward.
So there are a lot of good things going on, protecting the Great Lakes with the tunnel project. There's a long list of things. I do believe in being measured and having metrics, and I did it because most political people don't want to be measured.  They're afraid of failure. I view it as, "How do you measure success if you don't have a scorecard?" And I came out with a dashboard in that first State of State. I laid it out and if you go on our website right now and bring up that dashboard and compare that to 2011 to see how I've done.