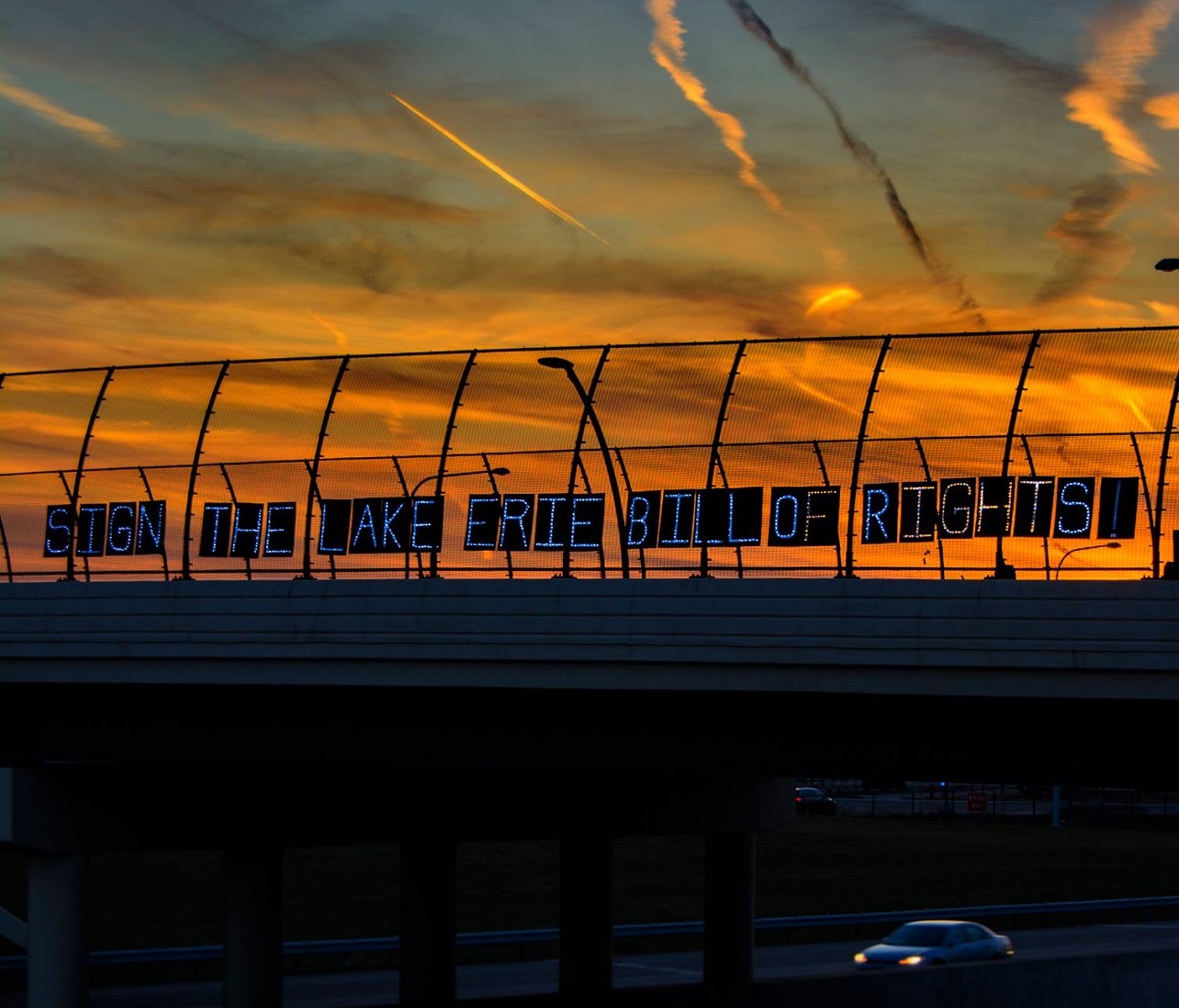 Last-minute protest keeps initiative off ballot, for now
An effort by residents of a Midwest city to bestow Lake Erie, its tributaries and all its watersheds some of the same rights as American citizens has faltered for a third time. But efforts to get the proposal on a February special election ballot are continuing with a decision possible next week.
If approved, organizers say it would be the first use of Rights of Nature to protect a specific ecosystem in its entirety in the U.S., in this case, the 40,000 square miles of waters.
Toledoans for Safe Water has worked for several years to garner Rights of Nature for the entire Lake Erie ecosystem by creating a law that would offer the world's tenth-largest lake "…the right to exist, flourish and naturally evolve."
The grass-roots ballot initiative would, if passed, bestow legal standing for the lake, all its feeders and all their feeders.  If enacted it would mean that the lake, just as if it were a person, could be represented by parties in court seeking to protect it from existing or future environmental threats.
Effort by local, vocal lake advocates continues
The push to establish Rights of Nature has been an uphill battle in northwest Ohio and will likely continue to be.
Toledoans for Safe Water, a tiny grass-roots organization, has been working on the measure, in one fashion or another, for the last four years. The group formed after the 2014 Toledo Water Crisis, in which the city's water supply was undrinkable for several days due to a harmful algal bloom in the lake's Western Basin.  The algal bloom sent unacceptable amount of toxins into the city's water supply.
"Most of us got really involved after the water crisis of 2014," said organizer Markie Miller. "That woke up a lot of people and made us realize there had been a problem for a long time. We got really concerned that nothing had changed."
Just because something is legal, allowed or permitted by the state or federal government, she said, doesn't make it right or acceptable.  By 2015 the small group, numbering just about a dozen at the time, began mulling over the rights of Lake Erie.
And then they decided to go big or go home
"By November 2016, we began our first public push," Miller said.  But in the beginning it was unclear how many signatures from registered Toledo voters were needed.  According to Miller, the Lucas County Board of Elections wouldn't provide the group with a required number.  "They told us to just turn in what we had and they'd see," she explained.
For Miller and Toledoans for Safe Water, that sounded like a losing proposition.  But, she said,
attorneys advising the group calculated the number needed: 5,244.
Volunteers eventually collected more than 10,000 signatures, with Miller estimating that about 90 percent of the folks approached were willing to sign. Volunteers then turned in their petitions Aug. 6, exceeding the needed number by more than 1,000 validated names.
Grass-roots organizers say it hasn't been easy
The Board of Elections subsequently denied the group's petition Aug. 28 in a 4-0 vote.  The Lucas County Board of Election's decision indicated the proposed ballot initiative exceeded the authority of the municipality.
Two days later the group asked the Ohio Supreme Court to consider the matter.  On Sept. 21 the state's high court also ruled against Toledoans for Safe Water citing precedent set in an earlier case involving a Youngstown area ballot initiative.  For that reason, Miller and advocates went to the city.
Toledoans for Safe Water re-grouped, petitioning the Toledo City Council to approve the ballot measure through a charter amendment.  The measure was eventually approved by a unanimous vote in the city council, which meant the ballot initiative had the official go-ahead from city leaders.
With the city's charter amendment passed, the next step was a second vote by the Lucas County Board of Elections on Dec. 10.
But a last-minute legal protest, filed via email less than hour before the scheduled vote, delayed the matter.  Advocates would have to wait once again for the "Lake Erie Bill of Rights."
The five-page protest claims the Board had already rejected the ballot measure.  The protest was filed by Columbus attorney Donald McTigue on behalf of Joshua Abernathy, an electrician and member of the International Brotherhood of Electrical Workers, Local 8. They did not respond to Great Lakes Now's requests for interviews.
A hearing on the legal protest filed by McTigue is scheduled at the Toledo Board of Elections office on Dec. 20.
What would a Rights of Nature law mean?
Giving elements of the natural world legal standing is an idea that's been brewing for decades and made headlines in 2015 when Pope Francis, addressing the United Nations, proclaimed "It must be stated that a true 'right of the environment' does exist."
In 1972 Christopher Stone's book, "Should Trees Have Standing?" was published, edging readers toward the concept of legal rights for natural objects.  Since then, the idea of Rights of Nature has grown worldwide, and a little in the U.S.  Academic works were subsequently published comparing the rights of nature to other previously non-existent rights in America, such as those of women and slaves.
Those comparisons are not lost on advocates of the Lake Erie Bill of Rights.
"We have the right to self-govern," said Tish O'Dell, with Community Environmental Legal Defense Fund. "Just like segregation of schools and outlaw of interracial marriage, which the law had long supported."  While those practices may have been legal at the time, she explained, that doesn't mean they were right.  It should be the same thing with Lake Erie and its tributaries, she said.
"This will allow people to bring an action before the damage is done," O'Dell said. "It will give people in the community standing, so they can sue over a certain practice, and say 'this has to stop.'"
In 2006, Tamaqua Borough, Penn. banned the dumping of toxic sewage sludge within its borders as a violation of the Rights of Nature, and in 2008 Ecuador became the first nation to recognize Rights of Nature in its constitution.
From the Lake Erie Bill of Rights:
Section 1 – Statements of Law – A Community Bill of Rights 
Rights of Lake Erie Ecosystem. Lake Erie, and the Lake Erie watershed,
possess the right to exist, flourish, and naturally evolve. The Lake Erie Ecosystem shall include all natural water features, communities of
organisms, soil as well as terrestrial and aquatic sub ecosystems that
are part of Lake Erie and its watershed.
In recent decades Bolivia, Columbia, India, Sweden, Nepal and New Zealand, among others, have moved to recognize the rights, in many circumstances, of the natural world as invaluable and inseparable from citizens.
"If it passes, the Lake Erie Bill of Rights will be the first law in the U.S. to recognize rights of a specific ecosystem," said O'Dell. The Community Environmental Legal Defense Fund is non-profit law firm supported by grants and private donations.  And, she said, they're up against big odds in Toledo.
"A lot of the news we see focuses on jobs and profits instead of environmental issues," O'Dell said. "But the harm that results from reckless actions, with respect to Lake Erie, also translates into money lost."
An amicus brief – a document presented by parties interested in influencing the outcome of a lawsuit but who are not direct parties to the action — filed with the Ohio Supreme Court in the September case indicates just how steep a climb Lake Erie advocates have.  The brief was filed on behalf of 14 organizations including those whose interests lie in corn, soybeans, sheep, wheat, dairy, oil, gas, chemicals, construction trades, pork, general agriculture and the Ohio Chamber of Commerce, among others.
Can a tiny group really battle a Goliath?
"That's really a great question," said Miller. "Collectively we all experienced what happened in 2014 and remember how powerless and vulnerable we were."  That, she said, makes the endeavor even more important.  "I think this really has power to it, I think it has teeth."
And indeed the Lake Erie Bill of Rights does in fact have teeth.  Very sharp ones.
As written, it stipulates that the City of Toledo or citizens may enforce the law and recover a multitude of costs, upon success, in Lucas County Common Pleas Court.  It also includes criminal penalties and revocations of business permits and operating licenses for violators.  Despite the odds, Miller said she, her organization and volunteers are on the right side of the issue.
Kenneth Cline, professor of environmental law and policy at College of the Atlantic, said he sympathizes with Miller and Lake Erie advocates.
"I've never seen one this big with so many jurisdictions," he said, going on to describe the possible future enforcement of the Lake Erie Bill of Rights as "messy."
While it's a relatively new idea in Western law, Cline said, it's worked in New Zealand and other locations in solving disputes between Indigenous citizens and governments over rivers, forests and other natural resources.
"What's tough is figuring out exactly who speaks for nature," he said. "It's obvious there are a lot of folks with a lot of interests."  Cline said in New Zealand, a native community would appoint one person to represent nature and the government would appoint one person.  There, it's worked, he said.
"I think they're right in that the current legal and political structure is not protecting the lake and that we need a new paradigm," he said. "I'm sympathetic to their goal. I don't know much about Ohio law, but I just don't see this happening."
Cline said a colleague of his summed up such issues with the observation that forcing people to think about a given natural resource makes them change lenses.  And that changing lenses forces changing dialogue, too.
Opposition to the ballot initiative is clear
Of seven industry groups listed on the amicus brief who were contacted for this story, just one responded, Affiliated Construction Trades Ohio.
"We believe the so-called bill of rights is a blanket anti-development measure that's supported by out-of-state activists with their own agenda," said Kitty French, ACT Ohio spokeswoman. "The measure aims to shut down companies and development projects here in Ohio and across the country."
French said ACT Ohio members and workers already operate within the legal scope of both state and federal environmental agencies.
"The Lake Erie Bill of Rights would put local contractors and workers in legal jeopardy simply on accusations they polluted the Lake Erie watershed," she said. French described the measure as a job-killing issue with a severe impact on both contractors and their workers. "It will trigger a pretty significant decline in the Toledo and Lucas County area."
But Miller is certain that Rights of Nature is rising.  "I think it will become mainstream and I hope Toledo can be a part of this," she said. "Myself and others want Toledo to become leaders in something global and now is the time."
A special election concerning a jail re-location in Toledo is already slated for Feb. 26.  Toledoans for Safe Water hope to have the Rights of Nature initiative on that ballot.
Featured Image: Highway overpass sign erected by advocates. Toledoans for Safe Water, Photo by James Proffitt