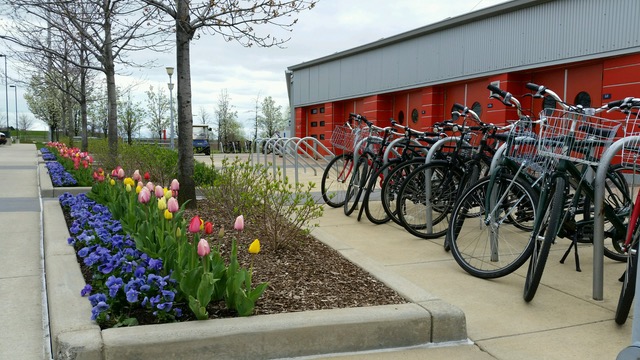 "Green Infrastructure will be part of our culture"
That's what Andy Reese, a storm water expert who is Vice President of Amec Foster Wheeler,  assured his colleagues on opening day of the Great Lakes and St. Lawrence Green Infrastructure Conference in Detroit.
But both Reese and opening plenary speaker Jon Allan, Director of the Michigan Office of the Great Lakes, said people who are involved in storm water management need to do a better job of explaining the meaning of the words "green infrastructure" and how storm water drains work. Allan said the general public must more clearly understand that "Green Infrastructure is about rethinking the way we manage water."
Allan talked about touching the hearts of the people in the community so they will want to transform cities and towns to make them more sustainable and better to the earth. But both he and Reese urged everyone in the industry to be patient.
Allan said, "You CAN change the way we do things. It doesn't happen in a minute. It doesn't happen in a day." He said it happens "a parking lot and a park at a time. It may not feel transformative, but forty years from now, it will be. "
Storm water expert Andy Reese told people in the industry not to expect that people will be on board with building green infrastructure systems in their communities simply because "it's the right thing to do." He said the industry must prove to municipalities and lawmakers that there's a good return on investment.  He said storm water management must be run more "like a business." And he said a really good way to get people on board is by creating places where people can personally experience the transformation of green infrastructure. He said, "the key to green infrastructure is public attractions and making them beautiful. "
The signs of the success of the Green Infrastructure movement filled Detroit's Cobo Hall during the conference.  Sara U'Ren, program director with the Watershed Center of Grand Traverse Bay,  described the way small waterfront communities in Northern Michigan and Suttons Bay have used green infrastructure methods not only to beautify beaches but to make them safer, too. She says people often don't realize that green infrastructure is better for your health: in the case of beaches, it means less bacteria, disease and other problems.
Another panelist, Deane Wassink, is stopping erosion along Great Lakes shorelines organically: he started a company in Holland, Michigan that plants dune grass – thousands of plants at a time. Dune grass creates its own sea wall, and can also be used in place of lawns.
Exhibitors at the Green Infrastructure conference showed creative ways to help cities, businesses and private citizens help return storm run off to the earth in a natural way. Esther Durnwald who runs Michigan Wildflower Farm in Portland, Michigan helps her customers find the native plants and seeds that are indigenous in order to naturalize the landscape, drain storm water properly, and encourage pollination with bees and butterflies. Mark Walker with Kuert concrete showed a new product used for storm water management called Xeripave. It's manufactured out of natural aggregate and is designed to allow storm water to pass through it. It can be used for sidewalks, pavements, tree surrounds, alleyways and almost anywhere pavement or concrete would be.
Director of the Michigan Office of the Great Lakes Jon Allan offered encouragement to the 500 people attending the conference which covers Integrated Storm water Management from Duluth to Quebec.  He said, "The trajectory and the contours of the future are in your hands.
You are the power of transformation. Every day, I want you to get up and be that person who drives change forward."
For more information on the conference go to michigan.gov