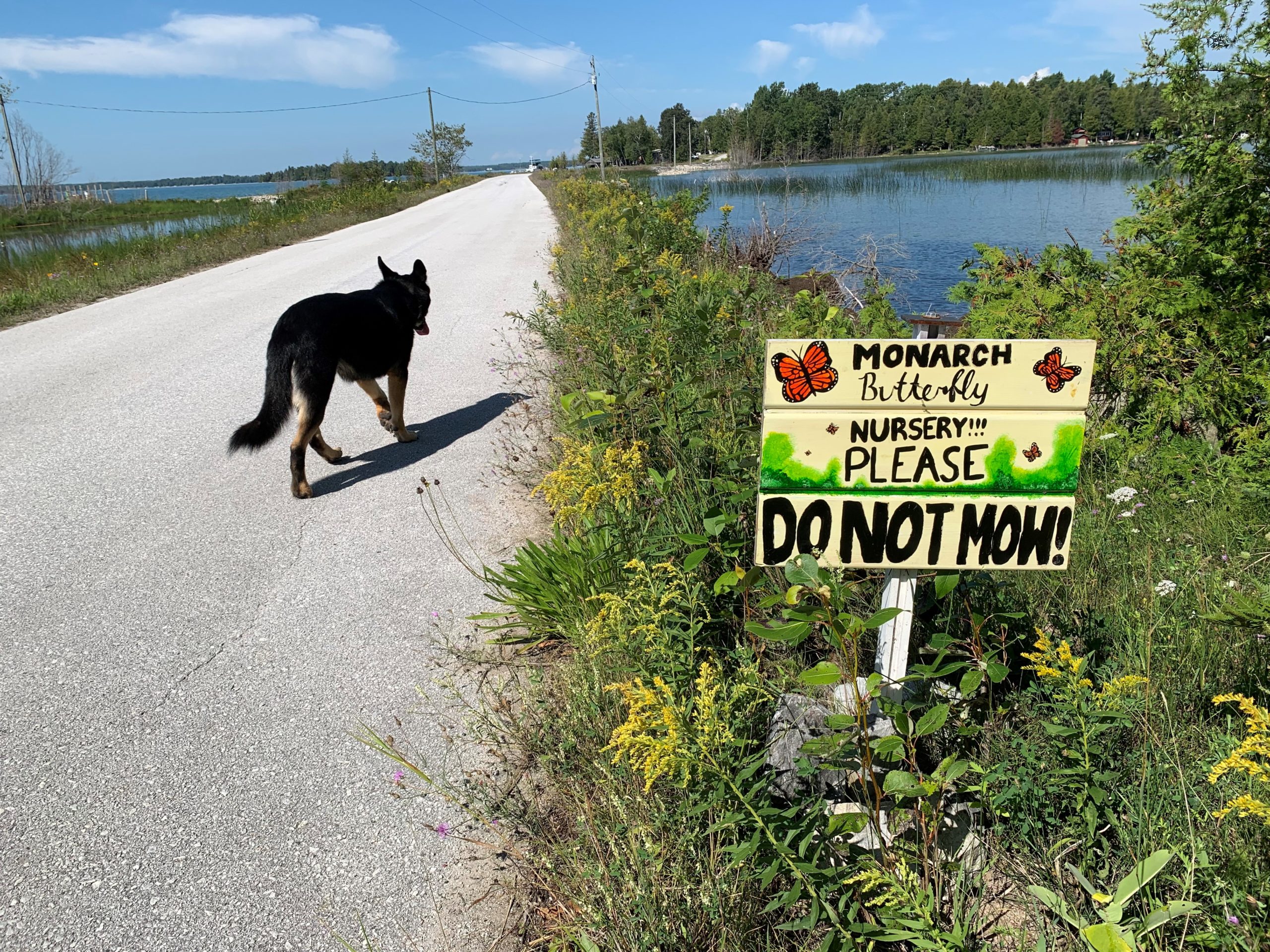 Walking my 90-pound shepherd a few days after Christmas in our suburban neighborhood, the jangling bell on his collar seemed a festive touch, one of the neighbors told us. 
But it was more of a reminder of our August trip to Drummond Island than some holiday décor.  
My 11-day summer vacation this year involved throwing my dog, some swimsuits and a lot of sunscreen in my car and heading up to visit generous friends with houses along Grand Lake (north of Alpena) and Lake Huron. Leaving the husband home to work, I took Cal, our rescue shepherd who's good in the car but a newbie to lake life. 
As with any good adventure, I had a couple goals for last August's vacation. First, ensure Cal was a good house guest for the two friends who had invited us up. Second, see some parts of the Great Lakes region that were new for me. Three, relax and not do a bit of work.  
As it turned out, we accomplished all three things. And now, I'm writing about one of my Great Lakes highlights for 2021. Find the rest of our team's stories on the Great Lakes Now website. 
Shipwrecks, Beaches and Fetch
Our first stop was Dr. Jennie's house at Grand Lake. Located a few miles north of Alpena, Michigan, along U.S. 23, the professor's home has been a Great Lakes Now bed and breakfast twice now. Host Ward Detwiler and I stayed there in June when we filmed "Shipwreck School."  
(Hopefully Cal was as good a houseguest as Ward…I'll have to ask next time I talk to Dr. Jennie…) 
While the professor worked most of the daytime hours – she's authoring a book about role models in American politics – Cal and I explored new places. I've been to Alpena a bunch for work with the Thunder Bay National Marine Sanctuary, but I've never been to a lot of the sites along the Great Lakes Maritime Heritage Trail, let alone by myself without videographers or hosts. 
The area didn't disappoint. Informative placards tell you about what shipwrecks are in the waters just offshore, and you can explore the natural beauty of the northern Lake Huron shore. 
Cal and I walked for miles. We watched a family jump off the abandoned dock at Rockport State Recreation Area. We played fetch at the Besser Natural Area where Cal got a little bit better about getting his feet wet. (He'll only get in the lake to fetch a ball.) We walked out on the pier and to the lighthouse at Presque Isle. I ate ice cream; he wanted to but didn't get any. 
Dr. Jennie and her teen joined us for a day of fun on beaches and trails as well. We ate amazing local food, swatted mosquitos and caught up on each other's lives in the months since we'd seen each other. Despite my promise of no work, we did squeeze in dinner with Zach Irving and his team, who are based in Alpena and have shot several Great Lakes Now segments including this one: 
From Grand Lake I drove north on U.S. 23, a stretch of the Michigan coastline I'd never been on until we got to Cheboygan. Cal napped, but I caught glimpses of the lake, fantasized about owning one of the cottages, and scoped out the crafty mailboxes in the shapes of fish and pine trees. 
Crossing the Mackinac Bridge with Cal looking out the window like a curious toddler, we went north a few miles on Interstate 75 and then headed east along the Upper Peninsula into Les Cheneaux Islands. I'd been there by boat as a kid. My family chartered a sailboat but had to hole up for three days in a protected bay as a massive storm forced us into safe harbor. 
Reaching Detour Village, another new spot for me, we watched freighters pass as we waited for the ferry for the short ride to Drummond Island. 
Drummond Island
My friend Laura, who splits her time as a communications consultant between Florida and Michigan, is a fourth-generation islander of sorts. Her great grandfather, a New Yorker, bought property on the remote island, and subsequent generations have stayed, some of them year-round.  
Laura has invited me for years, and 2021 provided the perfect time to get to this magical place off the eastern tip of the UP.  
"What can I bring you?" I asked before the trip, knowing supplies might be a bit limited. "Good parmesan," was the reply. So a few pounds of that were in my cooler as we crossed on the ferry. 
Her directions to her house were easy to follow – "turn at the municipal road storage site" – and a mile or so later her golden retriever greeted us at the end of her driveway. A few minutes later, we were sipping some Bell's beer, a neighbor arrived with fried whitefish sandwiches for dinner, we looked at Laura's pictures of bear cubs on the very deck we were sitting on, and I wondered how it took me so long to get there. 
We ran out of beer after everyone had had a couple. Laura and I decided to make a run to Four Corners, where you have two options to buy a case: the grocery store or the gas station. Laura, the two dogs and I got in the car. As we reached turned back on the main road by the municipal lot, she suddenly commanded me to pull over in a voice I didn't dare disobey. 
My head computed what it could be before I could even say it. I knew Laura well enough to know the tone meant something dramatic, and we had JUST been talking about the island's biggest animal residents.  
It was, indeed, a bear. Good thing we weren't in a convertible because the dogs saw it too. 
We pulled over, circled back as he ducked into the woods, and waited a few seconds until he popped out just behind us. Credit to Laura for the photos shot from the passenger window. 
Her dog sat fairly peacefully in her lap, but Cal wanted out. In the three-second video I have, he pawed the window as the bear lumbered across the road into the lot and TOWARD LAURA'S HOUSE. Yes, along the very road we would walk the dogs on every day. 
First, we marveled at our good luck to spot the black bear.  
"They're mostly on the other end of the island," Laura told me. "You're lucky." In all my Great Lakes years, I've only seen them in the Porcupine Mountains and that was while backpacking pretty remotely. 
Then, we dubbed him the two-beer bear, which was fun. Except then I started to wonder what would happen if we encountered him or any of his friends during my week on the island. If we saw this guy two beers in, what was going to happen the rest of my week? 
"They're actually fairly timid," Laura promised. "They're more scared of us." 
But precautions are healthy. Preparing for the worst often means it doesn't happen. Cal got his bell, just like the local dogs wear.  
It turned out to be as good for warning people about him trotting up the trail or along the beach and allowed my city shepherd to make friends more easily since he wasn't surprising them. They hear him coming. The bell doesn't bother him, and I think he now knows when it goes on him, he's going to have some outdoor fun. 
Months later, he continues to wear it for walks, especially on trails and off leash but sometimes around town like this week.  
Some people have rocks collected from Great Lakes beaches, others have T-shirts, refrigerator magnets, stickers and other kitsch. I have all that too, but my favorite Great Lakes travel souvenir is that dog bear bell I bought for a couple bucks at Johnson's Sport Shop in the middle of a remote Lake Huron island. 
I'm pretty sure it's Cal's favorite too. I look forward to hearing it ring on Drummond Island next summer when I can explore even more new places on our beloved Great Lakes. 
---
Read 2020's staff lookbacks:
2020 in Review: Climate change, COVID-19 and Michigan's governor
2020 Really Sucked. What's Up Next? I don't know.
Lake Ontario: Big catch escapes again
New Team: What's good about 2020?
On the Pulse: I've Got One Word For You, 2020
2020 Vision: Great Lakes Now year in review predicts 2021
Or read some real news on Great Lakes Now:
Monty and Rose: Those Chicago piping plovers, where are they now, what are they doing?
Superior Stewardship: In Duluth, the Great Lakes are more than a resource, they're part of an identity
---
Featured image: Cal takes a walk on the Strickland Point Road on Drummond Island. (Photo Credit: Sandra Svoboda)