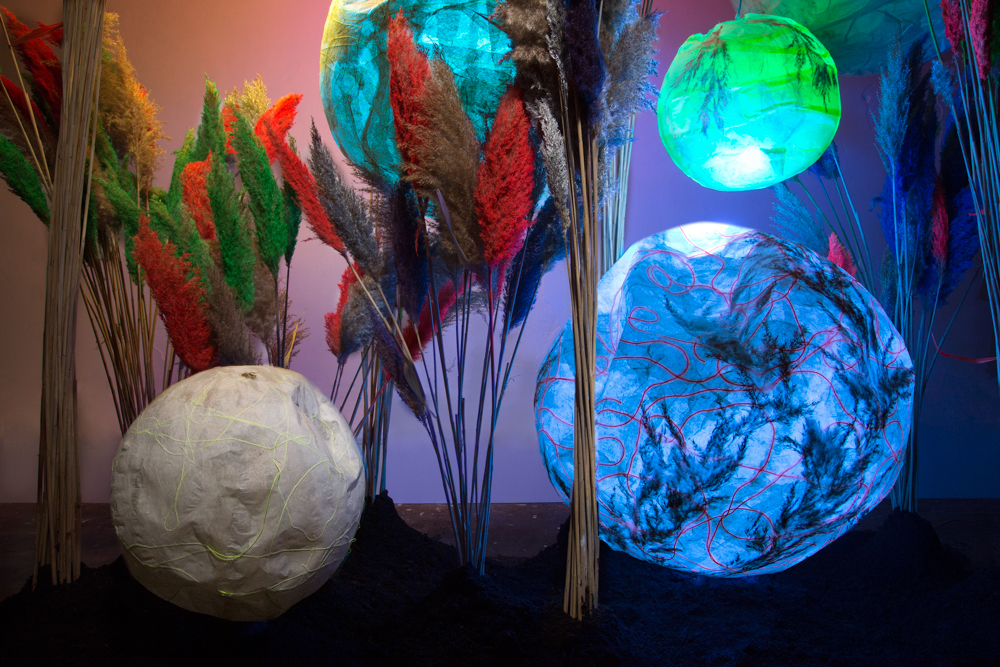 This article was republished here with permission from Great Lakes Echo.
By Emilie Appleyard, Great Lakes Echo
Artists in the Great Lakes region are taking trash and turning it into art.
Dave Matsen, a retired professional photographer from Ludington, Michigan, found inspiration from his garbage at the beginning of the COVID-19 pandemic. While in lockdown with his wife, Matsen became more aware of the amount of waste his household produced daily.
To monitor his household's waste habits, Matsen saved the plastic it was consuming. After 18 months, he was shocked by the amount of plastic waste just two people could have generated, and realized he wanted to make others aware of "a truly global problem."
According to National Geographic, only 9% of the world's plastic gets recycled. Matsen said he hopes that his piece, titled "Eco Opportunity," brings that fact into conversation and makes other people more conscious of their own plastic consumption.
Matsen included recognizable brand labels, such as Nestle, Amazon Prime and Meijer, in the piece in hopes that it would start a discussion of how to make brands more responsible for the single-use plastic they produce.
"The companies that we buy products from and the packaging on them, once it leaves the store, they no longer claim any responsibility for them. I think that's wrong. It's kind of a closed loop. There should be some process where the plastic goes back to the manufacturer and gets reused or recycled," he said.
Adding brand labels has also sparked more conversation from viewers of "Eco Opportunity," which was recently on display at ArtPrize, in Grand Rapids, Michigan.
"People look closely at the labels, and I think they see their own consumer habits," Matsen said.
Some Great Lakes artists, such as Stella Larkin from Marquette, Michigan, recycle trash in creating more practical items. Using wood left over from a tree plantation next to her house, Larkin and her woodworker husband make mirrors and chairs.
"It's never been in my nature to go to the store and buy things to make art. It's always been, use what you have, use what you find," she said.
Larkin also created a piece using plastic she found on the beaches of Lake Superior after a severe storm.
"I went to the beach to collect driftwood and came home with bags of plastic," Larkin said.
After seeing a photo of the amount of trash she had collected, the Superior Watershed Partnership suggested Larkin make an art piece with it.
Taking a piece of plywood, she built a mandala of plastic on top. Larkin said that the project used only about 1/16th of the plastic she found on the beach that day.
The organization uses the piece as a visual in Great Lakes educational programs, as well as showing school children the amount of plastic in water.
Larkin said she isn't sure whether she is making an environmental statement with her art, but is glad the plastic mandala is being used to educate people on plastic pollution in the Great Lakes.
Another artist repurposing trash into art is Megan Heeres of Detroit.
Heeres has a paper-making studio where she takes unwanted plant material, often from invasive species. While removing unwanted plants from people's yards and public places, she noticed a lot of trash and other human-made items.
"I found it to be an interesting challenge to take this unwanted trash and incorporate it into the art I was already creating from the paper I was making," Heeres said.
Heeres currently has an exhibit at Michigan State University's Broad Art Museum.
The artwork was created in collaboration with the MSU Surplus and Recycling Store. All the pieces in the exhibit were made using recycled items from the store and paper made by Heeres.
"I really strive to make artwork that is accessible, and that people can understand and see themselves in it," Heeres said.
Heeres said she hopes her art brings conversation about the "spaces and places" where she finds so much of her trash.
"They tend to be economically depressed places or places where the government has left behind and sort of forgotten about," Heeres said.
She said that could cause younger people to think about the kinds of "spaces and places" they want to live in and to see and think about what action is necessary so there isn't as much trash left in these areas.
"I make art to open up conversation in a different way," she said.
---
Catch more news on Great Lakes Now: