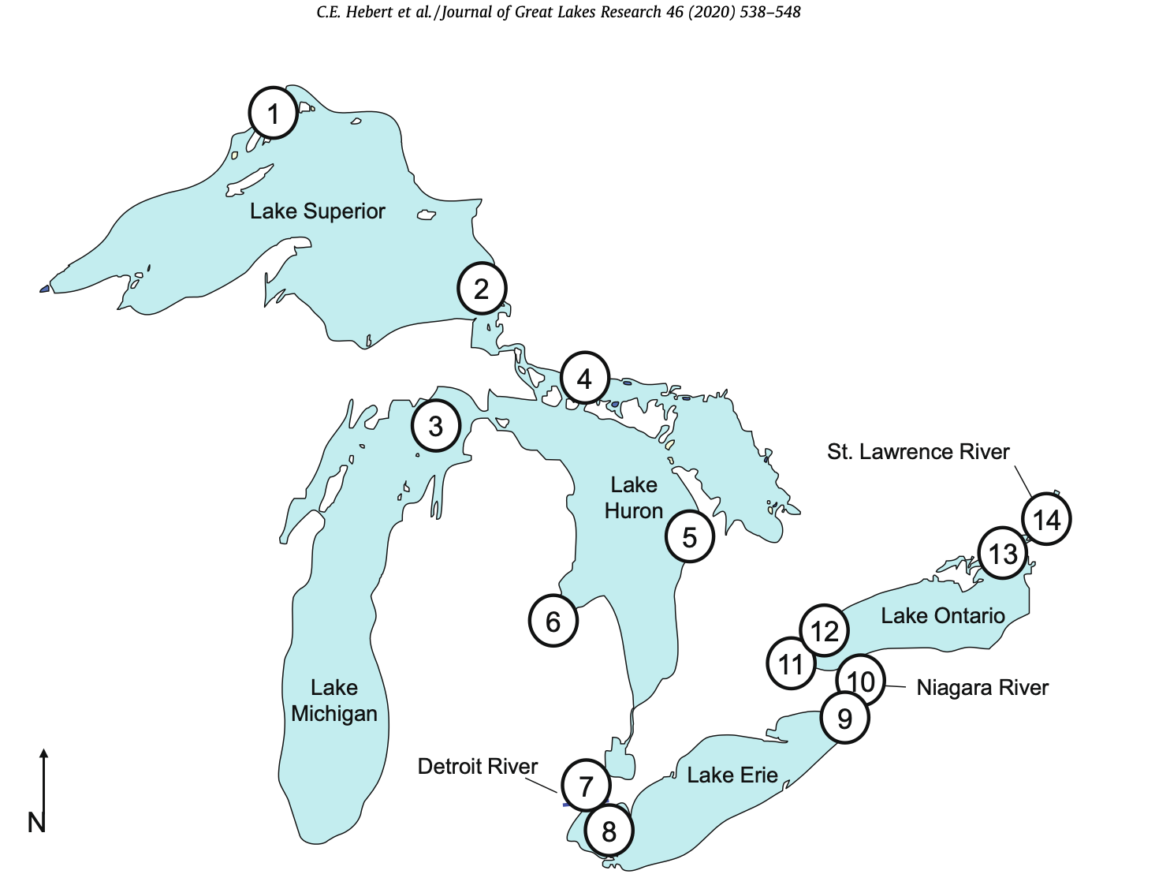 This article was republished here with permission from Great Lakes Echo.
By Kalah Harris, Great Lakes Echo
---
Herring gulls are aquatic birds that feed at the water's surface and so are restricted to feeding on prey fish at the surface and shallow nearshore waters.
They are considered "opportunistic generalists" because they use whatever food sources are available, according to "Trends in herring gull egg quality over four decades reflect ecosystem state," a new study about the health of the birds in relation to their environment.
Their diet has effects on many components such as egg quality and egg energy density, and thus can influence diet in itself which could benefit or harm the eggs.
Wildlife researchers and scientists use aquatic birds — in this case herring gulls — as environmental change indicators in freshwater and marine environments. For about 50 years, herring gulls have been used to get a better idea of how the Great Lakes are changing through time.
For the study published in the "Journal of Great Lakes Research," researchers collected one herring gull egg annually from 14 colonies in the Great Lake Basin.
The author, Craig Herbert, a research scientist at Environmental and Climate Change Canada, said, "What happens in their environment is reflective of how well they do."
Herbert said the gulls  were originally used to monitor the levels of chemical contaminants in the water, but are now used to gain insight into ecological trends.
A median clutch size for herring gulls is three eggs. Egg volume helps determine the quality as it reflects the quantity of lipid and protein reserves by the female during egg formulation, according to the study.
Egg energy content is another important factor, and the content increases with yolk content since yolk contains higher levels of lipids and proteins than albumen, according to the study.
Over a 39-year period, Herbert and other researchers examined the patterns of egg volume and egg density on each of the five Great Lakes and found a decline in Lakes Superior, Michigan and Huron.
A decline was also seen at colonies on the Detroit River, Niagara River and Lake Ontario.
Herbert said, "A decline in food availability for the birds" is the cause of decline of gulls in those areas.
A number of factors contribute to the decline of the small prey fish that these birds eat, like less nutrients in the water and new species introduced both intentionally and unintentionally.
New species like pacific salmon introduced for sport fishing can contribute to the decline because they eat small fish.  Invasive species can come from ships, like zebra mussels that play a role in negatively altering its new environment, making it inhospitable for certain species.
"They are listed in general across North America as a common species in steep decline," said Erin Rowan, a conservation associate with Audubon Great Lakes and the Michigan Department of Natural Resources.
"If the herring gulls were to ever be on the brink of extinction, conservation funding would become available with that status, which could help bring conservation partners together. A diverse set of conservation partnerships are essential in bringing birds back from the brink, as we've seen in Michigan with the success of the Kirtland's warbler," Rowan said. "There is a lot of funding available that comes with that status that could help their conservation and bring conservation partners together."
Rowan said possible ways to improve the life of herring gulls include first looking at the fishery to make sure it's being managed sustainably.
---
Catch more news on Great Lakes research on Great Lakes Now:
30 Years Later: Mussel invasion legacy reaches far beyond Great Lakes
Michigan is on thin ice. Get used to it, climate experts say.
Mussel-Phosphorus Puzzle: Invasive mussels are reshaping the chemistry of the Great Lakes
Unexploded Ordnance: Lake Erie shoreline site of long-term munitions study
Got Pike? Huron, Michigan, Ontario, Superior, yes. Erie, not so much.
API key not valid. Please pass a valid API key.
---
Featured image: Sites of collection for egg data. (1) Granite Island, (2) Agawa Rocks, (3) Gull Island, (4) Double Island, (5) Chantry Island, (6) Channel Shelter Island, (7) Fighting Island, (8) Middle Island, (9) Port Colborne, (10) Weseloh Rocks, (11) Hamilton Harbour, (12) Toronto Harbour, (13) Snake Island, (14) Strachan Island. (Image: Journal of Great Lakes Research)