While schools and non-essential businesses are all closed to some extent by various governors' orders, the outdoors is still open and early spring fishing is a great way to get out of the house and grab some fun, fresh air and of course some fish.
Ohio Gov. Mike DeWine ordered all bars and restaurants to close more than two weeks ago, and on Monday he also ordered Ohioans to stay home and remain home unless absolutely necessary.
Residents are allowed to grocery shop, make medical appointments, travel to and from work at essential businesses and engage in other "essential" activities, which includes going outdoors and getting exercise.
It's the same in most of the Great Lakes region.
"Our governor did issue a stay at home order, but under that order you're still able to go outside and engage in activities," said John Pepin, deputy public information officer with Michigan Department of Natural Resources. "And fishing is one of those activities."
Pepin recommends proper social distancing, of course, and being mindful of others' health and welfare. On streams and banks, that would require being at least a fishing rod's length away from others.
In fact, Pepin chuckled, fishing any closer would by all accounts be considered fairly rude angling etiquette.
The state's public boat ramps are open and ready for use, Pepin said, though there is no guarantee that restroom facilities will be open. While MNDR's campgrounds had remained open, the state decided to shut them down in the past several days. Ohio has followed suit.
Boat ramps in Ottawa County have been packed in recent days with anglers from more than a dozen states including Iowa, Arkansas, Minnesota, Wisconsin, New York, Pennsylvania, Illinois and elsewhere, and fishing reports on websites are rife with information about where and how to catch limits.
Where there are anglers, there are bait shops
Jeff Frischkorn, an outdoor writer and avid angler from Mentor-on-the-Lake, Ohio, said he's found Pennsylvania shops closed and some Ohio shops open.
Great Lakes Now contacted more than two dozen shops across Michigan, Ohio, Wisconsin, Pennsylvania, New York and Minnesota. A few answered the phone and were open, others went to voicemail with no coronavirus message or online updates on their situation, which could mean they're closed or dipping minnows and waiting on customers. Many were closed and planning on staying closed for weeks or longer.
Safe Harbor Bait and Tackle in Buffalo, New York, is closed – but it does have a vending machine out front with salted minnows, waxworms, spikes and other bait. Here's a tip: if you head there, take $1 bills.
"There are shops open in my area," Frischkorn said. "And no, the stay at home order hasn't kept me home from fishing, certainly not steelhead and definitely not farm pond fishing."
Frischkorn said he's seen more than a few anglers on northeast Ohio streams on the prowl for steelhead, which is often a solitary pursuit. When people fish together on streams, they generally give their angling buddies a wide berth. Nonetheless, some creeks are at capacity for anglers.
"At a couple parks near where I fish there have been plenty people out," he said, going on to cite some parking areas overflowing with vehicles. "At Headlands Beach State Park, on Lake Erie, I found the bathrooms were locked and the portable toilets were secured shut with zip ties."
Will travel far for Lake Erie walleye
Despite the worldwide coronavirus pandemic, people are still traveling far to fish the Great Lakes.
Hunter Faust, his younger brother and friend drove more than six hours from Dillsburg, Pennsylvania, to hit the lake early Wednesday morning.
"They got us shut down at work and so we figured, why not?" Faust said. "We're used to catching them on the Susquehanna River, but this is whole new ballgame. We're not exactly set up for it, but why not try? It was a last-minute thing. We knew we wanted to go fishing but we weren't sure if we wanted to stay local or what."
After catching a single 22-inch walleye in the morning, the trio headed back to shore for some tackle and advice. At a Marblehead-area bait shop that was "coronavirus closed," they were able to finagle the owner to come in and slip them a few goodies out the back door – just like in the old Prohibition days.
Traditional fishing hotspots may be wary of outsiders
Some Great Lakes go-to angling hotspots every spring have become wary of visitors, according to Joe Henry, tourism director for Lake of the Woods, Minnesota.
"We're entering a very weird time," he said. "As we speak today the City of Baudette has shut down both public access ramps because they don't want tourists coming and there are meetings tomorrow about some other river access ramps being shut down. The locals are very concerned about the coronavirus."
Henry described northern Minnesota residents as preferring that the region lay low, especially in light of declining supplies of basic necessities in many stores. Hopefully, he said, the region can jump back on the tourism train come summer.
For now, as a tourism official, Henry said he takes a neutral stance. He's neither promoting nor discouraging anglers heading to northern Minnesota.
However, he said, Minnesota is open for anglers. And getting outdoors, anywhere, is great thing.
"It's cheap psychology," Henry said. "I just walked off the ice. I was out by myself on a frozen lake watching the swans and the geese and the cranes fly over me, the ducks, enjoying the migration and late March ice fishing on sloppy ice. It was so good for my soul."
He reiterated the safe social distancing aspect of spending time outdoors, which isn't hard to accomplish in a state with 10,000 lakes alongside the many rivers and streams feeding Lake Superior.
States' ever-changing rules beginning to look more the same
There are no plans to close boat launches in state parks, according to Raechelle Belli, Wisconsin Department of Natural Resources public affairs manager. And while she said Gov. Tony Evers has ordered closures for many state businesses and activities, like Ohio and Michigan, fishing is not one of them.
"As long as people practice social distancing, which is what our news release said on Saturday," she said. "Currently all of our state park facilities, like visitors centers and other buildings, are closed, except for some restrooms."
Belli said she couldn't say exactly which, if any, boat ramps or parks did not have bathrooms open. And as far as bait and tackle shops being considered essential businesses, she declined to speculate.
"I do know a lot of convenience stores are open because they sell groceries," she said.
According to Sarah Wickham, Ohio Department of Natural Resources chief of communications, the state's parks and boat ramps should remain open throughout the region's closures, so long as people can utilize them and remain safe.
"We are closely monitoring the situation and will make any changes that conditions warrant," she said. "Fishing on boats would be considered an outdoor activity as long as it otherwise complies with social distancing guidance."
Wickham said wildlife and parks and watercraft officers are still on duty and patrolling the same areas they always have, including responding to calls and enforcing laws.
"But they are practicing social distancing, so they won't be going to club meetings, events or routinely checking fishing licenses or otherwise approaching individuals in non-emergency situations," she said.
Likewise, New York State Department of Environmental Conservation officials say it's still a great idea to go fishing.
"Anglers can continue to fish throughout New York state, including Lake Erie," said TJ Pignataro, NYSDEC spokesman. "Get some fresh air and recreate locally to the fullest extent possible."
Like all officials, Pignataro emphasized safety first, including seeking less-crowded fishing areas and keeping distance between others. Boating, though, could provide a problem when it comes to safe social distancing. And in New York, bait and tackle shops and marinas could be closed.
"Bait shops and marinas would be subject to any of the governor's COVID-19 directives. Anglers should contact these businesses to ascertain their status," he said.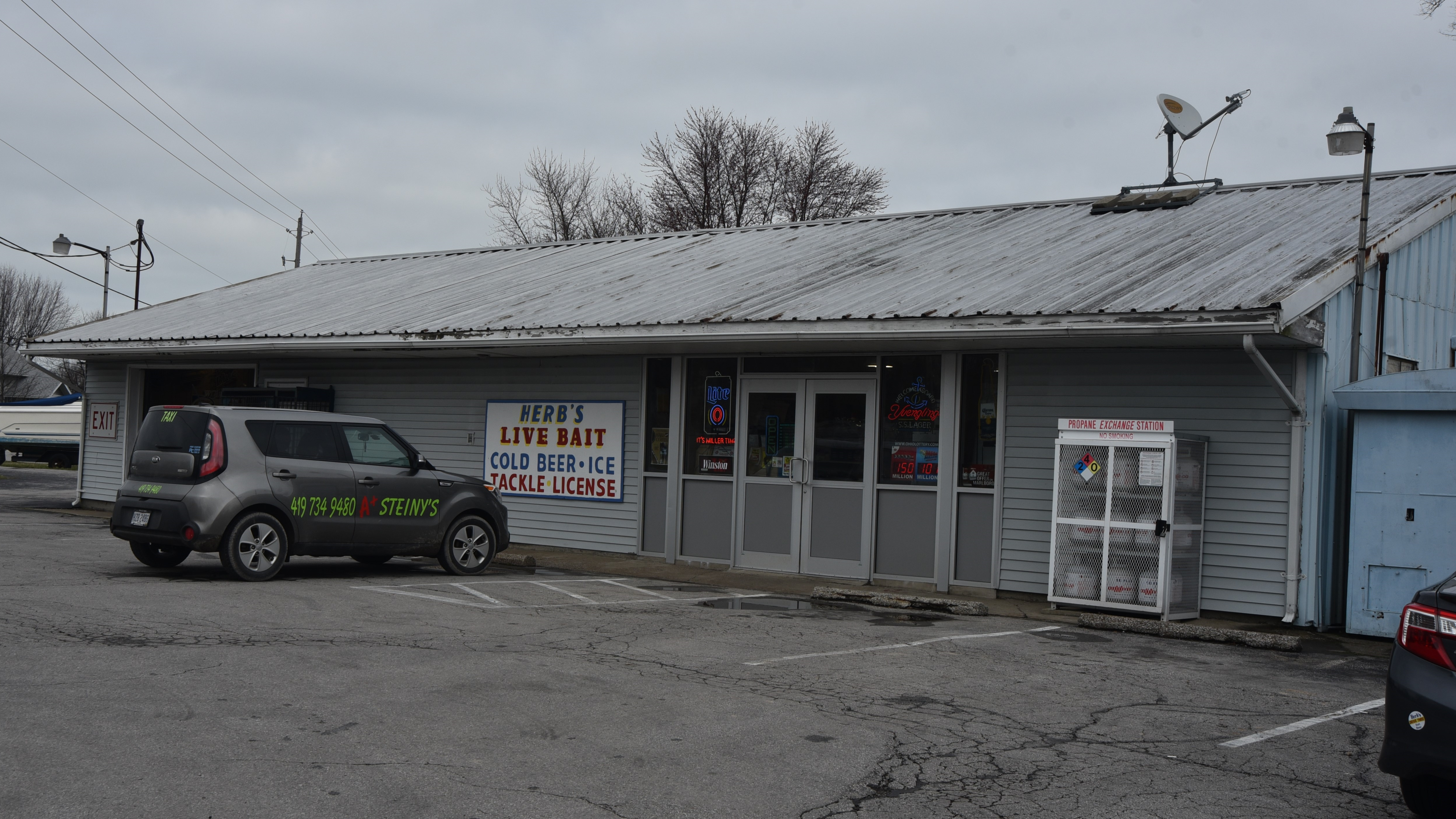 Michigan, Ohio charters told to hold off
"The official stance is that we are a non-essential business and we cannot keep the six-foot social distancing, and so we have been asked to stand down until April 6," said Paul Pacholski, president of the Lake Erie Charter Boat Association. "I was told don't look for it either way, since they can't tell you how the re-evaluation's going to go."
He said that although no one likes the just-announced charter boat rules, it's reassuring to know that states who didn't enact the strictest measures the soonest are seeing the worst COVID-19 issues. For Pacholski, that means Ohio Gov. Mike DeWine's measures should help create a healthier state sooner and help minimize COVID-19 illnesses in the state.
"If this is a couple weeks thing, people have got to think about more than themselves," Pacholski said, citing the need to keep from spreading the virus to parents, grandparents and other older Americans. "I think the temptation though, with this amazing walleye fishing on Lake Erie, will be great. But once people get up here, where are you going to send them to stay or where are they going to go to eat?"
Unfortunately, he said, some charter captains may vote with their wallet instead of their conscience. And enforcement of the order falls to the Ohio Department of Health, not law enforcement agencies.
The Michigan DNR announced through a press release that "charter and fishing guide operations that involve boats, canoes and other marine vessels are not currently permitted" until at least April 13.
The DNR law enforcement division, Michigan State Police and local law enforcement agencies have full authority to enforce the order, according to the press release.
Meanwhile, if the Ohio order should be extended, LECBA will be pushing for some form of government relief for its members and all Lake Erie charter operations, Pacholski said. And on a positive note, he said, the early spring trips are not widespread and most captains don't begin booking charters in earnest until later in April.
On anecdotal reports that angling is good for you, he was emphatic.
"How many days can you be locked in the house and feel like you're trapped?" Pacholski said. "To get out and actually go fishing with another person – you're not being irresponsible. Going out, getting some fresh air, I don't know of any better mood elevator in the world."
Featured Image: A small public fishing access site on a portion of Middle Harbor on Catawba Island has many visitors every day, mostly practicing social distancing. Photo by James Proffitt.