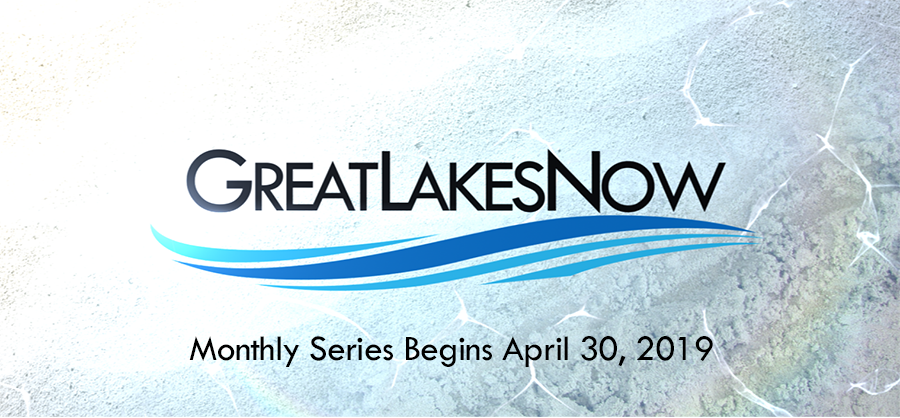 Detroit Public TV to Debut "Great Lakes Now,"
A New Monthly Series for Viewers across the Region
 A network of PBS stations to work together to cover
crucial issues affecting the well-being and future of the Lakes
Local Premiere at 7:30 p.m., Tuesday, April 30 on DPTV (56.1) 
As part of its ongoing commitment to providing credible and reliable news and information about the Great Lakes and surrounding communities, Detroit Public TV (DPTV) is premiering a new monthly, magazine-style series, "Great Lakes Now." Each 30-minute episode reports on the world's largest system of freshwater, with in-depth coverage of the environmental, economic and political issues that impact the lakes and the people who use, cherish and protect them.
The program is produced by DPTV's Great Lakes Now bureau, a regional hub of news and information on matters of top importance to the region. In addition to DPTV's own team of correspondents, "Great Lakes Now" represents a unique partnership with other regional PBS stations that contribute coverage to the TV program and to the Great Lakes Now website, newsletters and social media platforms. Partner stations will also broadcast the show on their own TV channels.
"The Great Lakes are critical to the future of the region. They provide a common heritage and perhaps shape our character more than any other factor," said Rich Homberg, president and CEO of Detroit Public TV. "Through this new monthly program, DPTV and partner PBS stations will provide unparalleled coverage of the issues of water quality and sustainability that people in this region passionately care about."
Produced by DPTV's Rob Green and Sandra Svoboda, "Great Lakes Now" debuts on DPTV at 7:30 p.m. on Tuesday, April 30,  and new episodes will be broadcast on the last Tuesday of every month. It can also be viewed on-demand on DPTV's multiple online platforms including GreatLakesNow.org and YouTube. The program is hosted by Detroit-area native and Great Lakes aficionado, Ward Detwiler.
"Great Lakes Now" is recorded on location around the Great Lakes basin, and segments and stories focus on issues that matter to the people of the region including: water quality, government policy, economic vitality, environmental justice, resource conservation, recreation and tourism.
The "Great Lakes Now" television program is the next step in DPTV's initiative to provide coverage of the range of issues affecting the Great Lakes and to promote a basin-wide identity that helps create a shared sense of stewardship and responsibility for the health of its freshwater resources.
In its debut episode, "Great Lakes Now" travels across the region to learn what life is like on a Lake Erie island – especially without tourists — and how a Chicago port helps get a favorite candy made. With help from reporting partner MLive Media Group, it looks at how Ann Arbor, Michigan, is dealing with industrial chemicals in the city water supply and answers viewer questions about drinking water safety. Additional digital features enhance the on-air work and can be found online with the continuing, regular coverage at https://GreatLakesNow.org , Facebook and Twitter.
"While other media outlets in this part of the country have been forced to scale back their environmental coverage because of budgetary pressures, we appreciate the opportunity to increase what our viewers will see on TV and online," said Sandra Svoboda, program director for the Great Lakes Now initiative. "We strive to become the region's first choice to learn about the issues that are affecting the lakes we love."
###