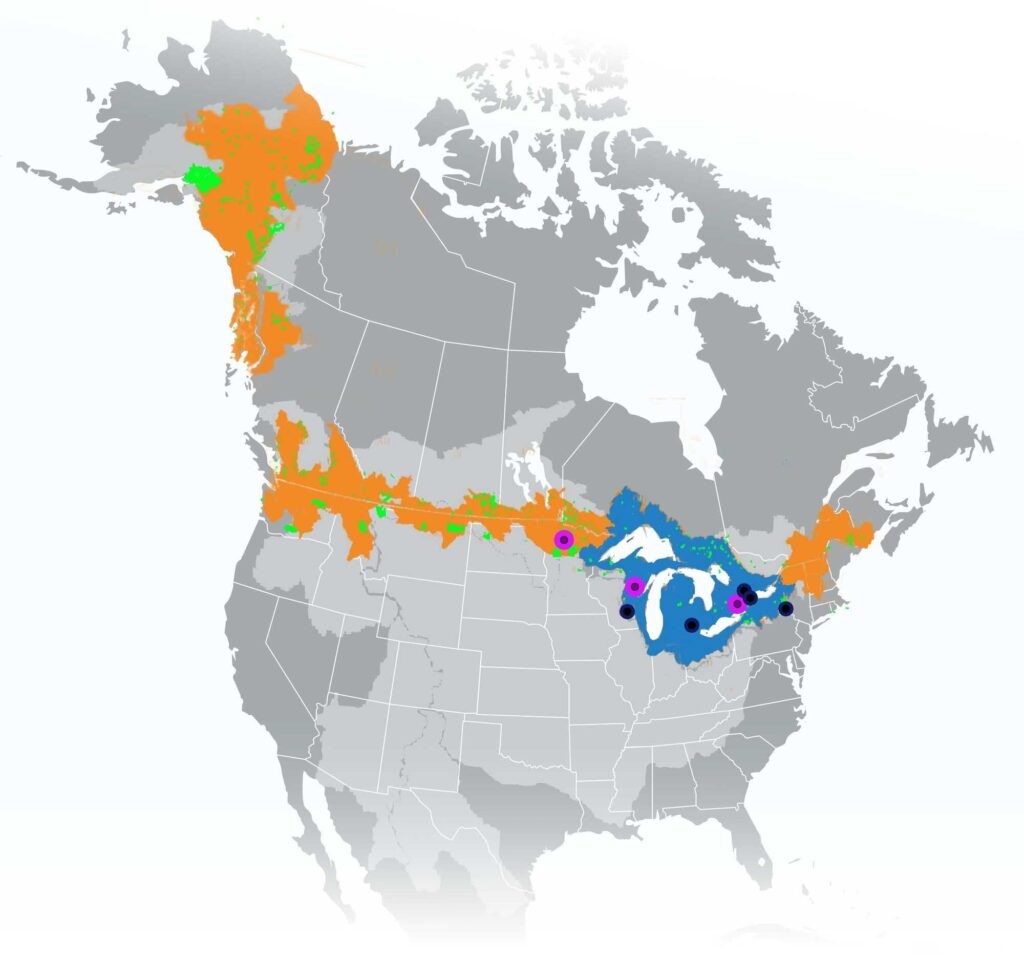 When it comes to fostering resilience in the face of climate change in the waters that border the U.S. and Canada, hydrologist Drew Gronewold wants the region to be a "role model for the world."
Gronewald is leading a new U.S. – Canada and sovereign nations effort to establish a research center designed to strengthen climate change resilience in communities that span international boundaries and jurisdictions.
"Northern North America is one of the fastest-warming regions on the planet," Gronewold said in a statement announcing the initiative.
Gronewold is an associate professor at the University of Michigan's School of Environment and Sustainability.
The project is funded by a $5 million grant from the National Science Foundation and the Canadian government is expected to provide additional funding bringing the total to $7.75 million (U.S. dollars) over five years. Canada's contribution will support the work of Canadian researchers.
Great Lakes Now recently spoke with Gronewold to learn more about the initiative's priorities.
Why transboundary waters?
"Globally, a huge portion of the Earth's land surface is made up of transboundary waters and rarely do watershed boundaries align with geopolitical boundaries," Gronewold said.
The result is many watersheds are managed by two or more governmental entities, so from a global perspective, "transboundary water management is absolutely critical to our freshwater resources."
In the Great Lakes region, a binational partnership to manage the waters dates back to the early 1900s when both countries agreed they needed ongoing discussions about how to manage this massive water resource.
Scientifically, Gronewold said it's important to understand how transboundary waters change over time and that requires data that has to be coordinated and harmonized between the regional governing bodies.
Advancing societal needs
The project's scientists are eager to expand their research, Gronewold said, but the mostly federal funding is "intended to advance societal needs." As such, it's important to focus in the short term on how climate change will impact ecosystems and water quality across the Great Lakes region in a way that would lead to improved decision-making.
The project's key is its focus on strengthening resilience of communities that span international boundaries. Great Lakes Now asked Gronewold to explain resilience and the related terms adaptation and mitigation as they can overlap.
They have differing connotations depending on the group using them, Gronewold said, but he makes the point that resilience ties them together.
"So it's not just adaptation, it's anticipating what might be coming down the road and being ready for it. Then putting in measures that are going to mitigate the harmful impact of climate change. To me, those all tie together in a broad definition of improving resilience," Gronewold said.
Indigenous communities
The research will emphasize Indigenous communities. As such, Great Lakes Now asked Gronewold if their resiliency concerns differ from other constituencies.
"We don't know," he said. "That's what we want to find out through this work."
More specifically, the researchers want to learn how Indigenous communities differ in their definitions of climate change and what their perception is of resilience.
The College of the Menominee Nation in Wisconsin is one of the partners in the project. Great Lakes Now did not receive a response to a request to comment on its role in the research.
Gronewold said an indicator of success would be the extent to which research informs decision-making by governing bodies and policymakers, but cautioned that tracking it is "tricky, but that's the ultimate goal."
While the project is in the early stages, Gronewold is already thinking long-term.
"Our intent for this center is to not be a five year, close the shop and go home enterprise. We want this initiative and this way of thinking to be going along for a long time," he said.
Gronewold said a strength of the endeavor is that it has strong partnerships with agencies in the region including the International Joint Commission, the Army Corps of Engineers and Environment and Climate Change Canada.
In an email response to a Great Lakes Now inquiry, U.S. IJC commissioner Rob Sisson noted that climate change is characterized by low predictability and high risk which means that research and planning activities that build resilience in watersheds are critically important.
"The Commission applauds the efforts of the National Science Foundation and its partners. It is our hope that the resulting work will inform other studies and increase preparedness for communities, Indigenous nations, and the environment," Sisson said.
Asked about barriers to success Gronewold said, "right now we're in an idealistic phase where we have rosy glasses on and we're not seeing barriers." But he said it will be a challenge to generate energy and enthusiasm with new students who will work at the center.
New team members will need to be prepared to collectively understand and promote the mission's principles, according to Gronewold, who said they include the importance of societal impacts through improved communication and working with Indigenous communities.
"It's not every day that you find post-doctorate and Ph.D candidates who are prepared to holistically tackle this multidisciplinary set of objectives," he said.
A broader perspective
Gronewold wants the center's transboundary work to broaden the perspective on water of people in the Great Lakes region. He wants them to pay attention to the Colorado River crisis, drought and water scarcity within the confines of the U.S.
For example, the states that draw water from the Colorado River have a right to draw more water than exists, Grist has reported.  And Water Always Wins author Erica Gies talked about the "willful blindness" exhibited by groundwater regulators in drought-stricken California.
"It will be critically important to understand not only how water is managed within the Great Lakes basin but also how it's managed outside the basin. That's one of our aims with this new center," Gronewold said.
---
Catch more news at Great Lakes Now: 
Michigan water rights advocate questions effectiveness of proposed affordability legislation
Great Lakes EPA office reaffirms 2030 cleanup goal for Detroit River, other contaminated sites
---
Featured image: University of Michigan School for Environment and Sustainability Office of the U-M Vice President for Research