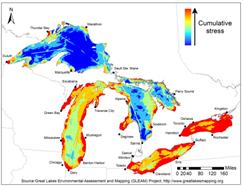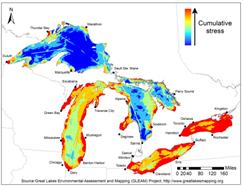 Michigan Radio's Environment Report interviews David Allen from the University of Michigan about a new study
The Great Lakes are under a lot of stress. 34 different kinds of stress, to be exact.
That's according to a research team that has produced a comprehensive map showing many of the things that stress the Great Lakes.  Think: pollution, invasive species, development and climate change… just to name a few…Listen to the full story at Michigan Radio>
The study was initiated at the University of Michigan and supported by the Fred A. and Barbara M. Erb Family Foundation. Additional funding was provided by the Nature Conservancy's Great Lakes Fund for Partnership in Conservation and Economics and the University of Wisconsin-Madison.